Is Quincy Black The Next Derrick Brooks?
September 21st, 2010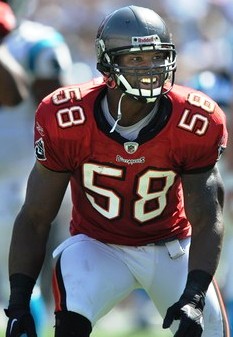 When Peter King set aside his bowl of oatmeal, filled his face with popcorn and started slamming coffees Sunday night writing his Monday Morning Quarterback column, he included much Bucs love.
One of the things he wrote about was his new crush for Bucs linebacker Quincy Black, and King may have had a few too many shots of espresso when he penned the following:
Quincy Black might not ever be Derrick Brooks, but the Bucs linebacker makes a couple of plays a game that remind me of him.
King didn't elaborate, but as much as Joe was happy with the play of the defense, that was a bit much. Black played well, damned well, but let's not get carried away.
As the great Mike North of Fox Sports Radio would say, "SLOW DOWN!"