"I Don't Care About Hype."
September 22nd, 2010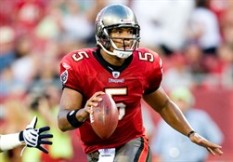 Bucs quarterback Josh Freeman called in to Sirius NFL Radio for an interview on "The Blitz" Tuesday, co-hosted by Rich Gannon and Adam Schein. Joe transcribed the interview for the littles to read.
Rich Gannon: That thumb was ugly-looking, it didn't look good to me, it was black and blue. How is the thumb?
Josh Freeman: It's getting better. It's not completely healed. I am able to protect it while I'm on the field and I'm able to progress.
Gannon: How painful is it?
Freeman: You know, it wasn't too painful last week but Week 1 leading up to Cleveland, it was not real painful, just moving and dropping back, you want to squeeze [the ball] and hold on to it and that is when I experienced pain.
Adam Schein: What are the keys to the success of the Buccaneers passing attack?
Freeman: There are a number of things. A lot of guys have stepped up. The offensive line is playing great football; they've only given up three sacks. One of which I didn't break on a hot route and a second was an all-out blitz and I ate it and the third was my fault for holding onto the ball too long. They're doing a great job. Last week they had a pocket for me all day. I was able to step up and make decisions.
Also, the receivers, they are young but talented. When we call on them to make plays they have all season.
Gannon: There's been a lot of talk about Mark Sanchez and all the work he did in the offseason and you were busy too. A week and a half after the season you went back to work. You told me an interesting story, tell me about that, how Greg Olson coached Drew Brees at Purdue and you went to San Diego to work out with him and work in the classroom.
Freeman: That was really important. Coach Olson coached Drew in college and I had the opportunity to go out and spend time with him and learn about him as a football player and a person off the field. I was able to spend quality time with him and it was a great experience. We talked football but he didn't up give any family secrets. It was successful. He told me what he has done as a quarterback and his mental approach.
Schein: It's pretty amazing the chemistry you have with Mike Williams. When did you realize the talent the cat had?
Freeman: Rookie minicamp. I was not sure about the guy until you see him on the field and performing. We first drafted Arrelious Benn and then Mike Williams. There was a lot of talk about Mike and his issues. I was curious to see what kind of a player he was. When I turned on the tape, he was making catches, big and physical, so I had to check him out at minicamp and it was obvious he was a guy we could use.
So when he came back [for the second minicamp], that's when I worked with him that first day and worked with him to teach him about the offense and we worked on our timing routes. One of those passes we worked on when he came back, he caught in a game for a touchdown. You can see his growth and work ethic.
Gannon: How much further along do you feel in this system as opposed to this time last year?
Freeman: This time last year I was third string. I was not even active on gameday. I was just trying to catch up. I was trying to watch film and study defenses. The toughest thing was not having a quarterback coach, not having a guy to come in and look at film with me. I didn't have someone with me to watch film with. This year I do. [Bucs quarterback coach] Alex Van Pelt is there now and he shows me what to look at. It's truly been a big help.
Schein: Before the season, did you think this team would get off to a hot start? I was one of these guys who thought two wins, three wins, four wins for the Bucs this season. When did you know this team would be better than what yours truly predicted?
Freeman: First off, I appreciate your honesty. Really, last year we were getting into a rhythm offensively and defensively. We didn't pull out the games but you could see we were making strides. I knew having a full offseason [with the same coordinators] this team was going to be better. We have confidence. You expect to have a chance to win. We go into every game knowing we have an opportunity to win. The mentality of the team and the culture changed in the offseason to give us the confidence.
Gannon: Tell us about the Steelers' defense.
Freeman: I'm excited about the opportunity. Cleveland had some exotic blitz packages but not quite what Pittsburgh does. Carolina was pretty basic. This team, it's a veteran defense and they get after it. I was surprised when I turned on the tape and saw how basic they were on first and second down. It's not all that crazy on first and second down. But it's tough because they walk around all over the place.
But it seems Troy Polamalu, the things he does he has free reign. When you throw downfield you have to account for him each time or he will read the route. The first couple of weeks he's made some incredible plays.
Schein: Are you like Ben Roethlisberger as a quarterback? Many have compared you to him.
Freeman: Obviously Ben has had a great career. He has two rings. It's flattering people compare me to him. I still have growth and learning to do but we are both big and physical and able to make guys miss us with escapability in standpoints so, yeah, I can see that.
Gannon: Tell us about Kellen Winslow, how is his knee holding up?
Freeman: He didn't participate in offseason because he was just trying to recover and get ready for this season. After Week 1, Kellen was in a lot of pain but the courage he showed to step up and play ball told me, "Hey, I'm great. I'm ready to play." He is a warrior. When he is up on Sunday, he will give it all he has got.
Schein: People talk a lot about Mark Sanchise. They think Mark Stafford will be a great quarterback. You may be having a better year than those two. Do you think you are left out of the conversation when quarterbacks from the 2009 draft class are discussed?
Freeman: Ha! That's interesting. I know both of those guys really good. They got drafted higher than myself. Mark had a good run last season. Obviously he will get the hype but I am not so worried about hype. I am worried about developing and improving as a football player. I don't care about hype. It's what you do on the football field that will determine your worth.