Huggins, Winslow Decisions Coming Soon
September 19th, 2010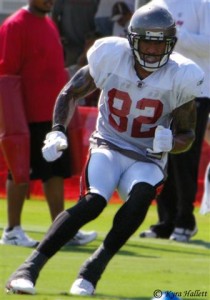 Can the Bucs win without Kellen Winslow?
Joe surely doesn't want to find out.
Winslow and his messed up knee, which has been under the knife several times and kept him out of a lot of practice this week, made the trip to Carolina for today's game, reports Woody Cummings, of The Tampa Tribune.
But the Bucs will make the official call on his availability just before kickoff.
Kareem Huggins is in the same boat with a groin injury. Joe's not too concerned about Huggins.  While he might have gotten some carries, he doesn't represent a key to victory.
All other Bucs made the trip to Carolina except for LB Niko Koutouvides, who stayed home with an ankle injury.