Freeman Better Than Stafford, Sanchize?
September 20th, 2010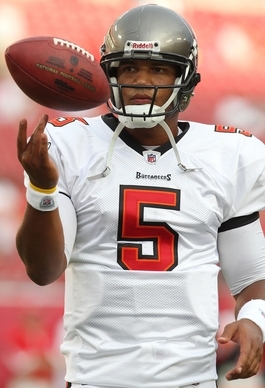 Yesterday Bucs starting quarterback Josh Freeman looked every bit the black Ben Roethlisberger in the first half, defenders unable to bring him down, Freeman using his feet to buy time and nail targets downfield.
Why, even Peter King, of Sports Illustrated, was moved to set his mug of coffee down, push aside his bowl of oatmeal and pass up a handful of popcorn to Twitter how Freeman looked like a playoff veteran quarterback.
King's cohort at Sports Illustrated, former Bucs beat writer and current NFL columnist Don Banks, wondered aloud if it is actually the Bucs that got the best quarterback in the draft a year ago.
Here's a surprising thought: Is it possible that Josh Freeman, Tampa Bay's 2009 first-round pick, is already further along in his development than either one of the higher-drafted first-round '09 quarterbacks, Matthew Stafford and Mark Sanchez? I know this: Freeman is the only one to open his second season with a 2-0 record. Freeman totaled 225 yards (43 rushing) and threw a pair of TDs in the Bucs' win at Carolina.
Joe will say this: Stafford appears to be damned good but thus far in his career the poor guy can't stay healthy. Part of that is the sieve that is the Lions' offensive line.
Sanchize looks to be the right-handed version of Matt Leinhart.