Bum Thumb Overcome
September 21st, 2010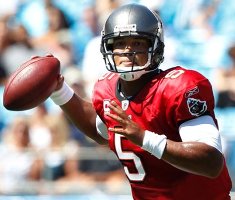 Many, including Joe, held their breath when Bucs quarterback Josh Freeman was pulled from the first home preseason game against the Chiefs after fracturing the tip of his thumb following through on a pass, hitting his thumb on the helmet of Tamba Hali.
Sometimes, this can lead to months on the bench. Fortunately for the Bucs, this happened to Freeman early in the preseason.
The way Freeman played in the Bucs' win at Carolina, it's easy to forget it's quite possible his thumb hasn't healed. This was the topic of conversation from former NFL quarterback Rich Ganno.n as he discussed the Bucs with his Sirius NFL Radio co-host Adam Schein during the Tuesday broadcast of "The Blitz."
"I don't think we have made enough of this," Gannon said of Freeman's bum thumb. "I did the Bucs game in the opening week and I watched him at practice the Friday before. That thumb was ugly-looking, it was it was swollen, it was sore. I didn't think he would play but he did and he made plays. He's a big reason why the Buccaneers are undefeated."
Schein added that bandwagon Bucs fans need to tune their car radios and computers to Sirius NFL Radio for quality Buccaneers talk.
"We are the official home of your undefeated, 2-0, well-coached, Bucs," Schein declared.