Bull Rush: Bootlegs A Definite For Browns
September 3rd, 2010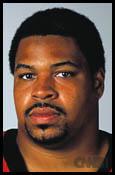 By STEVE WHITE
JoeBucsFan.com analyst
Former Buccaneers defensive end Steve White (1996-2001) is a devoted student of the game. He's even authored a coaching guide and coached defensive linemen at the University of South Florida. And his blog is fun stuff. After all those years breaking down film with former defensive line coach Rod Marinelli and the other architects and legends of the Bucs' defense, White shares his knowledge with JoeBucsFan.com readers in his must-read Bull Rush column. 
Today, White goes deep into analyzing all things defensive line out of last night's preseason finale in Houston. Joe advises you to grab a cold beverage, tell the old lady or the boss to leave you alone, and enjoy. This is great stuff, as usual.
Since the Texans-Bucs game largely was a matchup of backups versus backups, I'll give a quick recap but not the full write-up you're used to.
The defensive line played ok as a unit last night. We only came home with one sack but several guys pass rushed well. And, of course, we won the game so that's always a plus. But I don't think anyone would call this a dominant performance up front by any means.
A few negatives: We still aren't looping around for containment when we run our line stunts. Sooner or later that will come back to bite us.
The Texans also ran a lot of bootlegs, and they fooled us on all but one play. The general rule of thumb I have on bootlegs is when you see buttholes and elbows its a boot. When it's a running play, the offensive linemen try to stay square and get up the field to make their blocks. Because they can't be downfield on passing plays, they turn and run toward the sideline on bootlegs. At the very least, a defensive end should slow down and check the quarterback once he sees a blocker's backside.
I can almost guarantee you that after watching this film the Browns are going to run several bootlegs just to see if we have solved that problem.
Another thing I noticed is that some of our players still don't understand how important it is for them to be in their gap on running plays. I saw several times where a guy would get cut and then the ball ran right through his gap. There were other times when guys would get cut off from their gap and instead of fighting to get back where they were supposed to be; they took the path of least resistance and guess where the ball went. Yep, you guessed it, right where they were supposed to be.
It was mostly the backups committing these infractions, but some of these guys are going to have to play for us on Sundays, so they need to get it together.
For the personal breakdowns, I'm only going to mention a handful of guys.
Michael Bennett: Bennett had another productive game with four tackles, one for a loss, and two pressures. He was the one guy who played the bootleg correctly by the way.
He continues to show good pass rush ability from both left end and inside at the tackle spots. On the negative side he didn't set up the offensive tackle while running a TEX game. Again, for the umpteenth time, TWO STEPS UP THE FIELD IS NOT GOOD ENOUGH!!! He also needs to work on really ripping into his gap when he is running a line stunt, which will help him to escape the would be blocker and help to keep him from getting cut. The more I see of the guy, though, the more I'm convinced he is our best option right now at left end. We will see how that plays out as the season goes on.
Carlton Powell: Powell again showed the kind of effort you like to see from your young players. He also had a pretty productive night with two tackles, an assist and a knocked down pass. He looked particularly good on a couple of plays avoiding the cut block and making the play in his gap. Unfortunately, he got reached a couple of times and allowed the runner to run through his gap. I'm not sure whether Powell is talented enough to play on the NFL level, but I think if he keeps working like he has been he definitely will be in the years to come.
Dre Moore: Moore turned in his best performance of the preseason last night in my opinion. But it was also the most frustrating to watch. He had two tackles a pressure and a pass knocked down by my count. But in between the plays he made he just looked so disinterested at times.
Literally on some pass rushes it appeared that he just ran into the guy in front of him just to bide his time until the pass was thrown and he could run to the ball. I'm not saying that's definitely what he was doing, but it was definitely what it LOOKED like he was doing. His effort has been so up and down in the preseason games that you have to wonder sometimes if it's the same guy.
There is no question that he has a lot of talent and when he turns it on he is a very hard guy to block. But you can not play in the NFL if you are Tarzan one play and Jane the next. It just doesn't work that way. I was really hoping for big things from Moore this preseason but I just didn't see it. At least not on anything resembling a consistent basis.
Erik Lorig: Lorig had some decent rushes last night and that was good to see. He had a hit on the quarterback as well. But Lorig is one of the guys I was referring to about not being in his gap all the time. I can tell him that I got my spot on the active roster my rookie year from the practice squad because another guy on the active roster refused to stay in his C gap against the Lions and he ended up getting cut. That's just how serious it is. And that's how serious he has to take it if he wants to both make the team and make a serious contribution on Sundays.
George Johnson: Johnson had a decent night last night. He did have a penalty for roughing the passer, which we could have done without. But the very next play he made a good inside move and got himself a sack. He also had a tackle for loss and another tackle by my count. On the negative side, he has to learn that our defensive ends spill the fullback on split bellys and he also got sucked in really bad on a bootleg fake.
All in all though, he looked pretty good for a guy who we signed after camp had already started.
That's all I have on the game last night. If you saw something I missed, post it in the comments section.