Bucs "Flying Under The Radar"
September 7th, 2010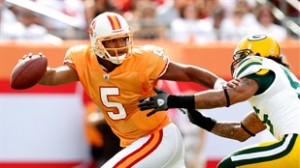 Of course, Joe hears this often from his loyal readers: "Why can't the Bucs win the NFC South? Look at what Atlanta did!"
Joe tries to live in reality, so he doesn't subscribe to this theory. But it seems Steve Wyche, of NFL.com, just might. In a recent chat on the site, he cited the Bucs as a sleeper team.
Paul, Virginia
Hey Steve, how do you believe Josh Freeman can have a great turn around in his second year like Peyton Manning did in 99?

Steve Wyche, NFL.com
If there is a team that might be flying way under the radar, it's Tampa Bay. I'm not sure Freeman can have that type of turnaround because he still hangs on to the ball a little too long, but he's gotten a lot better. That O-line is pretty good and with Mike Williams added to Kellen Winslow, he's got some targets. The Bucs have some talent on both sides of the ball. If they can harness things and have some early success to build confidence, they might surprise.
If the Bucs are to have a surprise turnaround season this year, beating the Steelers will be critical.
Joe's not so sure Josh Freeman and his bum thumb might be ready for Dick LeBeau's crazy blitzes and Tazmanian Devil Troy Polamalu flying all over the field. That's going to be a tall order.