Bucs And Blackouts
September 22nd, 2010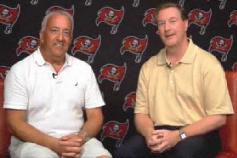 In the latest TBO Bucs vlog, Woody Cummings and eye-RAH! Kaufman of the Tampa Tribune tackle the subjects of blackouts, the Bucs and the NFL. Joe would like to read your reactions to their comments.
As for the Steelers game with the Bucs Sunday, the deadline for a sellout is Thursday at 1 p.m., though the Bucs can always ask the NFL for an extension if the team believes there's a chance of selling any remaining the tickets. 
Joe reported Friday that the game will be televised.