Blacked Out Games Available On NFL.com
September 9th, 2010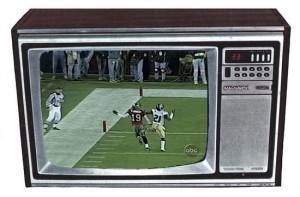 Bucs fans who can't go to the game Sunday, can't take advantage of The Blackout Tour, there is hope.
The Bucs games will be streamed (legally) on NFL.com beginning at midnight.
Mike Florio, the creator, curator and overall guru of NFL.com decided to put on his Edward R. Murrow hat and had a nice piece of information that the NFL will repeat what it did last year, offering — for free! — blacked out games some 11 hours after kickoff.
Last year, with the threat of a high number of lockouts looming, the NFL modified its blackout policy. All blacked out games were available in the local markets on a tape-delayed basis, via NFL.com.

Starting at midnight, the blacked out games were available for 72 hours, with the exception of the three-or-so hours of Monday Night Football.

NFL spokesman Dan Masonson tells us that the league will apply the same approach in 2010. Thus, if our friends in Tampa can find a way to avoid all media for 11 hours after kickoff of the Bucs' home game against the Browns, the Week One contest can be viewed on NFL.com as if from scratch.
There you have it. No need to monkey with some crappy Internet connection from Hong Kong streaming in a poor video quality of the game with many buffering delays. NFL.com will have the game available in sweet HD online.