Barber Says Lynchlike Hitting Has Returned
September 9th, 2010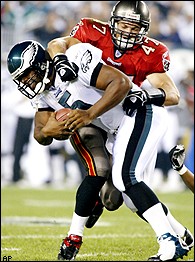 Ronde Barber, taking a break yesterday from senselessly whining about Aqib Talib's punishment from the NFL, gave a very intriguing take on why newcomer Sean Jones' won the starting strong safety job.
Speaking to the Cleveland media, Barber explained that Jones is the first guy to bring a level of physicality rivaling John Lynch's to the safety position since the Bucs icon left Tampa Bay after the 2003 season.
Barber propped up Jones and landed a swipe at Sabby Piscitelli. Not one to ascribe motives without just cause, Joe recognizes that Barber may not have meant to take a backhanded jab at Sabby here. But it's still a jab worth noting.
"He brings a physical presence, which we haven't really seen his type of physical play since [John] Lynch left. You know, we have Tanard Jackson; You know, he doesn't mind throwing his body around. But he doesn't have that body type to do it like Lynch used to do it when he was here, at least that I've seen," Barber said.

"Then Sean [Jones] came in and, you know, that's basically how he became our starting strong safety. Jimmy Lake, our DB coach, asked for physicalness at the position, and he showed it. Obviously, he's a great teammate. You know, I think he would have accepted it either way. But he just came in and worked, you know, brought his attitude into this building, into our defensive backs room. It's going to help us."
First, Joe is pleased to hear that Jones is so physical. Joe saw some of that in practice, as Jones always seemed to be the only guy hitting a bit when drills weren't live. This is high praise from Barber and should make any Bucs fan excited.
Second, Barber saying that Jones is a "great teammate" and would have "accepted" not starting, is an arrow to the gut of  coach-trashing Sabby, as far as Joe is concerned.
It almost make Joe wonder if Sabby will be out to pasture when Talib returns from suspension.