What Will The Bucs Front Seven Play Like?
August 13th, 2010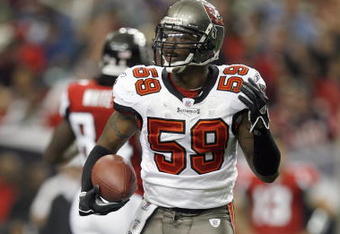 When co-hosts of Sirius NFL Radio's "Movin' the Chains," Pat Kirwan and Tim Ryan, along with special guest host Bill Cowher, descended upon One Buc Palace Wednesday, the Bucs were beyond accommodating to the trio.
All aspects of the Bucs training camp was open to them, whether it was dropping in on positional chalktalks with coaches, picking general manager Mark Dominik's brain for information or eavesdropping on huddles during practice, the entire operation was an open door to VIP visitors.
At one point in the four-hour show, the discussion turned to the Bucs defensive front seven.
Bill Cowher:  Quincy Black is impressive to me. He's a well-built guy. [Linebackers coaching intern] Greg Lloyd is very impressed with Quincy Black. This is a linebacker you have to keep your eye on. These guys can fly.

Tim Ryan:  I believe [the Bucs] are going to need second-level blitzes. The concern I have with this football team is the [defensive front] rush. If that isn't part of your identity, there will be some growing pains. Will they stay with it? As it becomes your identity, they will have a chance to grow with this defense.

Pat Kirwan:  How much stunting will there be?

Cowher:  My sense is [Raheem the Dream] will let the [defensive line] play. 'We have to penetrate. We have to get in the backfield. Yes, we have to cover the run.' Yes, there is a base package and then you scale back.

I like the way they are thinking. You have to let them play. Let them penetrate and then let the linebackers play off of them and then use their disruption.
So there you have it: Three football minds Joe trusts a great deal believe Todd Wash will use just about every stunt and trick known to man to enable the defensive front to get penetration.
If that happens, it could be a snowball effect, keeping heat off the linebackers.