"We're No Longer Tampa 2"
August 14th, 2010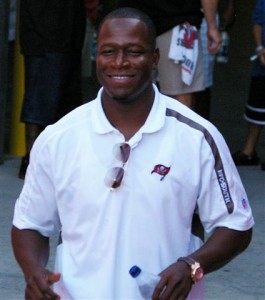 Veteran Bucs icon Ronde Barber had a fun chat with the Sirius NFL Radio Movin' The Chains crew when it visited Bucs camp on Wednesday.
Admitting he's dropped five pounds this offseason to play at 175, Barber talked to co-host Tim Ryan about the changes on defense.
Ronde Barber: We're no longer Tampa 2. We're Tampa 2-point-something. We've evolved a lot. And we still have our same bread-and-butter coverages. Some of the blitz schemes are the same. But Raheem's really been creative this offseason, man. He has guys on his defense now that can handle everything. You got a great corner in Aqib. You have a great safety in T-Jacks. You got very athletic linebackers that can run and handle all the blitz shemes and some of the things that we're trying to do up front. I'm excited for it.

You don't know what we're going to put on the field this year. Before, this defense was: line up, I'm sure everybody knows what we're playing, and we're just going to outwork you, we're going to outhustle you, we're gonna try to outhit you, and we're going to win that way. This time around, it's a little bit different. It's the same formula, but there a lot more catches to it.
Joe's excited to see Raheem The Dream's new upgrades to his defense. Last offseason, defensive mastermind Raheem The Dream's changes brought in the heinous Jim Bates Experience.
Joe's hoping for much better this time around.