Stylez Reacts To "Biggest Disappointment" Label
August 17th, 2010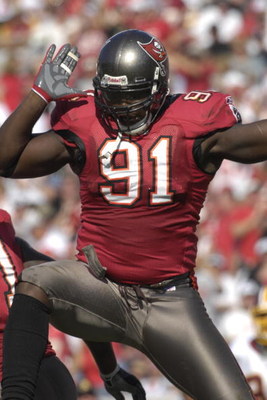 Maybe the Bucs are trying to light a fire under defensive end Stylez White, or maybe they really are down on him since training camp started 2 1/2 weeks ago.
Joe's not sure.
Failing to quote a source on the record at One Buc Palace, Pat "Vacation Man" Yasinskas, NFC South writer for ESPN.com, labeled White the biggest disappointment thus far for the Bucs in 2010. Vacation Man wrote this in a comprehensive preview of the state of the Buccaneers today.
BIGGEST DISAPPOINTMENT
Stylez G. White, defensive end. The Bucs know White never has been a very good practice player. But they thought he might come in with some inspiration this camp because he has a chance to be the top pass-rusher on team that doesn't have any proven star in that area. That hasn't happened. White's been very ordinary in practice and doesn't seem interested in being a leader for a young defensive line. Is that enough to cost him a starting job? Probably not because the Bucs really don't have much behind him. They're hoping White steps things up when the regular season arrives, but they're a little worried that might not happen.
Now Joe's not sure what the heck the Bucs wanted White to accomplish over the past 18 days, but it's reasonable to think they expected him to fill a commanding leadership role as the old-man veteran (just turned 31) among a very young defensive line.
Beyond that, this is a very harsh label for White, who played well last year, leads the team in sacks over the last three years, and came into camp following a ramped up offseason fitness regimen.  
Entering his fourth season with the Bucs, the team knew White wasn't a practice warrior. White himself, during a May interview on Buccaneers.com said, "I feel like Allen Iverson," referring to the famous practice quote from the former superstar point guard who didn't give his all in practice but gave extraordinary effort on gameday.
Today, Joe asked Stylez if he wanted to respond to ESPN claiming he's been a training camp disappointment. Stylez offered up his take.
 "Well, what they say must be true [that I'm viewed as a disappointment]. The got their info. from somewhere or someone. I can't [attest] to being an awesome practice player," White said. "Clearly the Bucs have their standard of practice, and I have mine. I believe preparation (which the coaches do a great job of) will help me way further than the just my athletic ability. Pretty much the knowledge of the game or what position they put me in.
"From the looks of it we are going to have star quality players in our starters [and] draft picks low and high. Being a leader is something that is earned and people respect.  I can't lie, I am not gung ho about being a leader because I don't want to be a hypocrite. I have my down days, and I bitch and complain like the rest. I know the difference when it's time to practice and when the lights go on on Sundays.
"I thank GOD that i am in this position to play on Sundays. I never would downplay practice, but like i stated before, the Bucs have their standards. I personally feel you prep for games during the week and win games on Sundays."
Normally, Joe might start writing about how the Bucs are trying to light a fire under White via this kind of under-the-table critique. But considering it comes from Vacation Man, known for his recent cluelessness and bizarre behavior, Joe's not sure what to believe.
Though Joe would bet on Stylez having an excellent 2010 season.