Sabby, Zuttah Officially "Demoted"
August 24th, 2010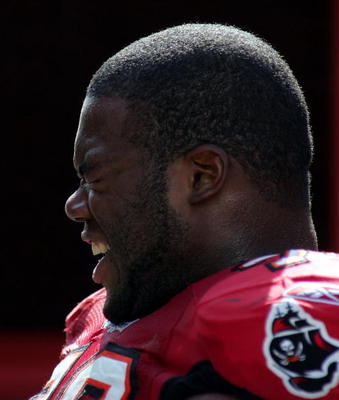 The Bucs' defensive mastermind/head coach dropped the "D" word on Sabby Piscitelli and Jeremy Zuttah at his afternoon news conference today.
Both have been "demoted," stripped of the starting jobs they held last year and replaced by free agents Sean Jones and Keydrick Vincent, respectfully. "That's how we would like to start the season," the head coach said. "It's tough at first. Nobody wants to be demoted."
The only explanation given was that Jones and Vincent are more physical.
After saying he had to "fix" Piscitelli this offseason, the defensive mastermind/head coach apparently couldn't get it done.
Zuttah will no doubt serve as the No. 1 backup at most positions along the O-line. Joe's still very curious about the Vincent-Zuttah swap. Joe just hasn't seen how Vincent proved he was better, and the head coach even said what Zuttah has put on film this preseason has been excellent.
Perhaps this situation will get some clarity now that Vincent is on the first-team line.