Rudy Carpenter Needs Some Work
August 5th, 2010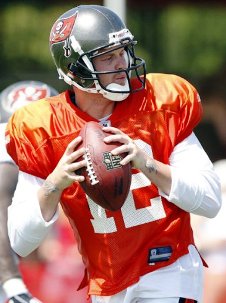 One thing Joe does know is that, barring injury, Josh Freeman is  your Bucs starting quarterback and Josh Johnson is the No. 2 quarterback.
Currently, Rudy Carpenter is a distant No. 3.
Now Joe has nothing against the guy at all, but it sure seems like Carpenter is either a nervous fellow or totally unsure of himself in the pocket.
Every time Carpenter goes back to pass, he double-pumps. Sometimes that's after he pats the ball a few times like Joe Namath did.
Carpenter is no Namath.
His play decisions? Well, it appears those need some polish, as well.
During practice this afternoon at One Buc Palace, Joe watched Carpenter throw to Kareem Huggins in the left flat. Huggins was open, but the problem was there were three Bucs defenders bearing down on him like hungry sharks after a steak.
The moment Huggins touched the ball he was destroyed. In short, Carpenter hung Huggins out to dry.
If Joe saw those three Bucs defenders making a beeline towards Huggins before Carpenter released the ball, how come Carpenter couldn't? Huggins seemed fortunate to get up under his own power.
If Carpenter is pressed into duty early in the season, the Bucs are in deep trouble.