More Bucs Chatter For Hardcore Fans
August 3rd, 2010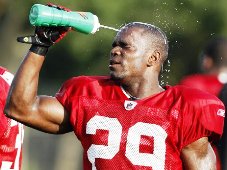 OK Bucs fans, still hungry for Bucs training camp news and analysis? Joe knows where you get can some.
Joe has brought you the YouTube videos of Derek "Old School" Fournier of WhatTheBuc.Net who had a lot to get off his chest. So he cut a 75-minute podcast where he reviews the first three practices of Bucs training camp 2010.
Just fast forward through the tedious, overly stoned, inaudible dude trying to pull off some annoying sort of rap in a painfully long intro. Joe knows you want to listen to football so jump right in and get to Derek's breakdown.
Joe has no idea why the link above won't work but try this.