Jon Alston Talks To Joe
August 1st, 2010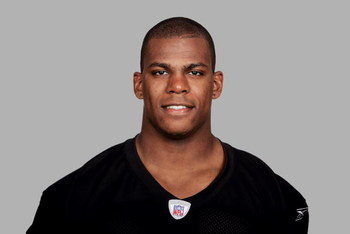 Working hard for his media partners at the Buccaneers flagship radio station, WDAE-AM 620 and BucsCountry.com, Joe caught up with new Bucs linebacker Jon Alston after Saturday's evening practice. The fifth-year veteran, who was a special teams standout in Oakland, shared some thoughts on the 2010 Buccaneers.
Joe: At 27 years old, you're a real veteran on this team. What's it like coming into this kind of young club, how are you adjusting, and how does that translate to practice?
Jon Alston: I don't know if the young team has anything to do with it. I was just thinking to myself, personally, how much I enjoy being here. [On Saturday,] I caught myself taking a moment and seeing how well we practice here despite the heat and compared to other places I've been. I've been in the league a while, and the energy is great.
Joe: What's your role on this team going to be? You came in with a repuation as a special teams ace, and the Bucs have built a very strong special teams unit.
Alston: Primarily backing up Geno [Hayes], and trying to learn both [outside linebacker positions] and be ready for anything. Geno's a great player. There's a lot I can learn from him, and the way Quince and Barrett play and approach the game, I can learn a lot there, too. Special teams is going to make sure I'm on this team. That's where I've excelled and we have a group here that can win football games. I'm really excited about playing for Coach Bisaccia. …The guys have so much respect for him. They believe.
Joe: What about Bisaccia stands out?
Alston: Definitely what we do on special teams stands out in the offseason preparation and approach. … We work hard. We go out and call it C.A.T. club. …It's an acronym and I'll leave it at that. …When other teams are just lifting and watching tape, we're out there practiciing technique, things that make you better on gameday. That's something that's paid off here. Coach Bisaccia is consistent and he's honest. That's the great thing. He is so steady. There's no panic now that the pads are on. We're practicing in OTAs the way we're practicing today. It's consistent, thoroughly, and that's special in this league.
Joe: Walking into this team in the spring and now, does it feel like a 3-13 team? Do you get a vibe that the team is climbing out of a hole?
Alston: I don't feel that, to be honest with you. The guys are very excited about how they finished last year against some good opponents. And there's a lot of confidence among the defense from the way things turned around late in the season. The atmosphere is, 'Let's build on that.' …There's no here we go again. It's a race to 10 [wins] as Rah likes to say right now. …The guys are buying into that. For the first day of practice, I was impressed with the tempo.
Joe: You're coming from the Raiders organization, where the fans are notoriously intense. What's been your impression of Bucs fans at FanFest and now after the first day of practice?
Alston: Raiders fans are great. They really are. I do like how intimate it was at practice here. Having the fans so close and so involved and so loud at pracitice, it kicks you up a notch. I'm from the South, from Louisiana. There's a different mentality in the south about the football. Some people around the country might take offense to that. I know the SEC, but I was a Pac-10 guy, and played professionally out there. It's a different kind of excitement in the South for football. This kind of fan energy is new to me at a professional level. …It's exciting. The fans are why we're here, and it's great to be reminded of that at the opening practice.