Johnson Didn't Show Much Progress
August 14th, 2010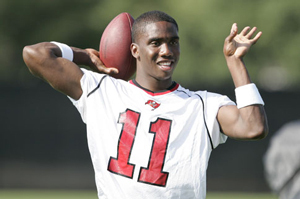 Coming into tonight's game, Joe was very eager to watch Josh Johnson.
Josh Freeman got all the offseason glory for his unmatched work ethic, but all reports said Johnson was right there with Freeman, even joining Freeman for an extended tutoring session with Drew Brees.
So what did Johnson bring to the table after getting four starts last year and another offseason in the Bucs' system? Not much.
Joe was very troubled by Johnson's fumble and interception, which was beyond ugly. Frankly, the Bucs better hire full-time bodyguards and servants for Freeman. If that guy gets hurt, the Bucs are in a world of trouble.
Yeah, Johnson made one excellent throw and he flashed why the Bucs should find a way to get him the ball in open space, but the turnovers just can't happen. 
Johnson's just not a good backup QB for this team, and Joe has no confidence in Greg Olson's ability to build an offense that suits Johnson's talents.