"He's The Heartbeat Of Our Football Team"
August 20th, 2010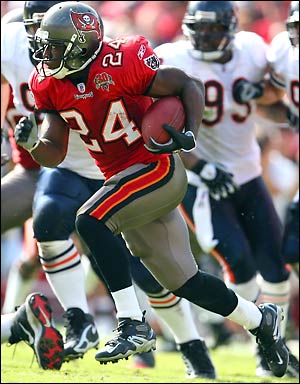 Looking exceptionally content and at peace yesterday, Raheem Morris shared stories of his end of training camp Wednesday night with the team.
Mr. Morris told the gathered media it was one big, happy bonding session with the rookies doing all kinds of silliness.
In that conversation, Mr. Morris got talking about Cadillac Williams and his presence, "He's the heartbeat of our football team. He's the character of our football team. He's just fun and dynamic to watch on and off the field," coach said.
Multiple Bucs have told Joe how inspiring it is to play with Cadillac. So Joe is not surprised.
But Joe wishes someone else — someone healthier — was the heartbeat. As much as Joe tries, Joe just can't get those heinous visuals of Cadillac's injuries out of his head.
Joe still gets sick to his stomach knowing how much the Bucs are relying on Williams to help provide the running game Josh Freeman needs to be successful, no matter how healthy Cadillac appears.
Joe hopes Caddy can hang in there strong until the Bucs snatch a running back with a high 2011 draft pick.