Haynesworth Does Not Belong On Bucs
August 25th, 2010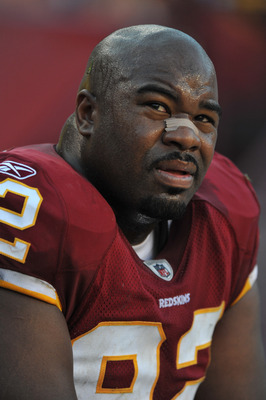 Yesterday, Joe's very own site was buzzing with speculation that face-stomping defensive tackle Albert Haynesworth might still be a fit for the Bucs.
As one might imagine, Steve White had an opinion about this.
The former Bucs defensive end who writes a weekly "Bull Rush" column for Joe put fingertips to keyboard and banged out what he thought of such a move, should Bucs general manager Mark Dominik be so inclined.
In short, White believes the Bucs should avoid Haynesworth like the Ebola virus.
And seeing as how the fact remains that even if Haynesworth was to come in here with a cape on and be super defensive end guy we probably wouldn't be contending for the playoffs, what exactly would be the motivation to bring him in? So he could poison the rest of our young defensive line with his me first attitude?

Don't get me wrong, I'm not even just talking about the situation with Shanahan where I feel like there is a helluva lot of blame to go around. I'm saying try to google an article where a teammate had good things to say about Haynesworth as a leader. You won't find it. A decent player at times? Yes. A leader though? Hell no. Its not something he has ever done but I guess maybe Mark Dominik was just joking around when he talked about how he wanted to build this team with youth and character.

So he doesn't fit scheme wise, attitude wise, or compensation wise. But hey, other than that he's PERFECT!
Joe knows that Dominik is trying to build a team with character. Hell, he could have had Santonio Holmes for a throwaway fifth round pick and he passed. How many elite wide receivers with Super Bowl rings in the prime of their careers are there available for a fifth round pick? One, Holmes.
So if Dominik wasn't going to nibble at that bait at a position the Bucs — at the time — had a whole the size of the Grand Canyon, then Dominik likely wouldn't bring in Haynesworth to play mother hen to Gerald McCoy and Brian Price.