Father Dungy Doesn't Like Colorful Language
August 17th, 2010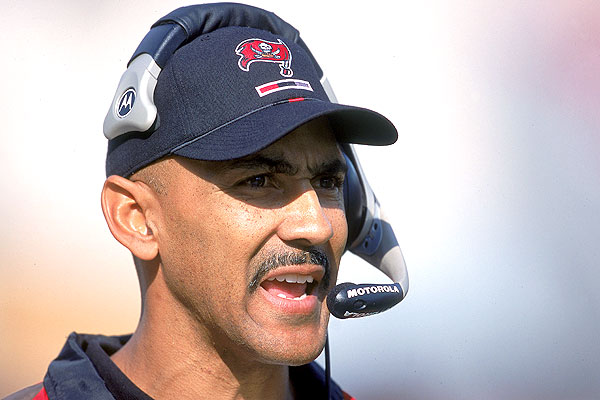 In what ranks as one of the biggest non-stories of the year — no surprise it originates from the mind-numbingly vapid Dull Patrick Show — it appears Father Dungy would prefer a garbage coach over a guy who uses the F-word.
Appearing earlier this week on the Dull Patrick Show, a virtual waste of electricity that is neither informative nor entertaining — the two main pillars of an interesting show — Father Dungy apparently was morally offended that Jets coach Rex Ryan uses the F-word a few times during the NFL Films-produced, HBO series Hard Knocks, documents Michael David Smith of ProFootballTalk.com.
Asked if he would hire a coach who talks the way Ryan does, Dungy answered, "I would not. I personally don't want my players to be around that. I don't want to be around that. . . . It's hard for me to be around that, and if I were in charge, no, I wouldn't hire someone like that. Now, I've been around 'F' bombs, so it's not like it's new. I just don't think that has to be part of your every-minute, everyday vocabulary to get your point across."

Dungy thinks NFL Commissioner Roger Goodell would be wise to give Ryan a call and ask him to think about how he's representing the NFL.

"I would hope that he does," Dungy said of the possibility of Goodell getting involved. "I don't know that he will or not but I hope that he does because I just don't think the league needs that. I don't think our young people need to hear that that's what's done to be successful. Because it doesn't have to be that way."
What next, Father Dungy believes Ryan should tuck the players in for nap time?
Give Joe a friggin' break!
So Father Dungy thinks Goodell — who has a full plate of far more significant issues than if someone uses the F-word — needs to start policing the vocabulary of coaches?
Joe is sitting in front of his computer shaking his head, at a loss for words including the F-word.
So Father Dungy believes some of the biggest, strongest, fastest men in the world who are locked in near-mortal combat, who go down in the heat of battle with, say, a broken leg, should instead of uttering profanities, say, "Oh, gosh darn. I suppose I may need an aspirin?"
Or maybe Ryan, when a player messes up in a critical playoff game, should pat said player on the back and whisper sweet nothings into his ear, the kind Joe dreams in the wee hours of the night of doing to Rachel Watson some day?
This my friends is Exhibit-A of why Joe always said Father Dungy was more priest than coach. Now he expects Ryan so recite the Act of Contrition to his players?
Joe just knows of a coach with profoundly more success than Father Dungy, a man who was never shy about using the F-word, Bobby Knight. A member of the Basketball Hall of Fame, Knight was fond of colorful language. The all-time winningest college basketball coach who holds an English degree from Ohio State, has famously stated many times how the F-word is the greatest word in the English language.
[CAUTION: The link above and the video below contain very NSFW language. Father Dungy would not approve of you watching/listening.]