Clayton's Odds Getting Much Longer
August 9th, 2010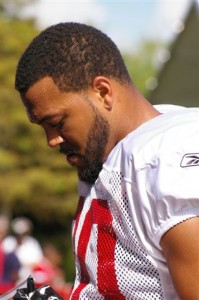 Learning of Mark Dominik's hefty praise of Reggie Brown Saturday likely caused cheers across the Bay area, as fans got to hear the writing scratched on the wall for blocking icon Michael Clayton.
Yes, Joe knows Dominik invested heavily in Clayton and still owes him a pile of money. But Dominik also has his name on Reggie Brown, and if Brown makes the team, that leaves no room for the blocking icon.
Mike Williams, Arrelious Benn,  Sammie Stroughter, Maurice Stovall, Reggie Brown are all ahead of Clayton for sure right now, especially considering Stovall's special teams prowess and now Brown's fresh love from Dominik.
Would the Bucs keep six receivers? Joe thinks that's pretty doubtful considering the team's likely desire to get Kareem Huggins on the roster.
Wide receiver Preston Parker seems destined for the practice squad.
The tea leaves are grim for the blocking icon. Perhaps only an injury can keep him around.