Calling Donald Penn "Rusty" Is Ludicrous
August 23rd, 2010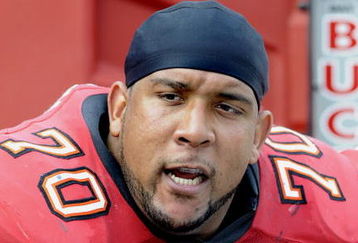 Joe wrote earlier about how it made absolutely no sense to blame Donald Penn for Josh Freeman's busted thumb.
Freeman's follow through hit Chiefs defensive end Tamba Hali, who had half-beaten Penn with an inside rush move on the play. Hali didn't hit or pressure Freeman, and it was just an old fashioned football play. Watch it yourself here.
What makes even less sense is to lay blame on Penn getting half-beaten on the fact he didn't attend offseason workouts with the team because of his contract status.
Yes, there is someone who would purport such nonsense — and then publish it. 
That's exactly what PewterReport.com is doing. (For those unfamiliar with that website, the fellas there used to have a colorful handheld magazine that was obliterated last year.) A mysterious unnamed writer there has called Penn "rusty."
Keep in mind Penn didn't miss training camp, where Penn was fit and healthy and near flawless in the preseason opener in Miami.
PewterReport.com's Take: This is the negative result of holding out. Yes, Penn got his long-term deal, but he has only been with the team since July 31. That is only three weeks worth of practicing, when the rest of the team started in May. Penn is rusty and that is why. The good news is that he recognizes it and is willing to put the time in to improve his game. Many athletes become complacent after receiving a large contract, but Penn's comments do not reflect that. Penn will use the rest of the preseason to work out the kinks in his game and once Freeman returns to the lineup, his blindside protector should be ready to go.
Joe thinks it's flat out ridiculous to call Penn, a veteran, "rusty" because he skipped OTAs and lifting weights with his teammates. Penn's quote after the game made it clear that Hali's film from the Chiefs' preseason opener showed him a different player than he saw Saturday night.
How that is evidence of "rust" from skipping a June practice in shorts Joe will never know.
By that logic, Kellen Winslow should be expected to make all kinds of screwups on opening day against the Browns. Yet no savvy observer would expect that to happen.