Caddy Is Just Fine
August 2nd, 2010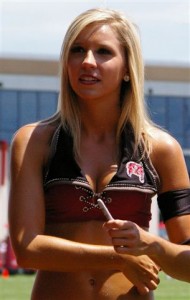 Mingling around training camp today, Joe was looking to see if Cadillac Williams would be around.
Yesterday, Raheeem The Dream reported that Williams had a minor ankle sprain and would miss practice.
Well, Joe found Cadillac wearing his jersey and walking around the practice field. He wasn't limping at all.
Later, Cadillac told Joe that "I'm just fine."
In the meantime, Kareem Huggins continues to impress with his speed, although Joe can't get all excited about that without seeing him get it done in the preseason games.