Bucs Night Practice More Like A Carnival
August 7th, 2010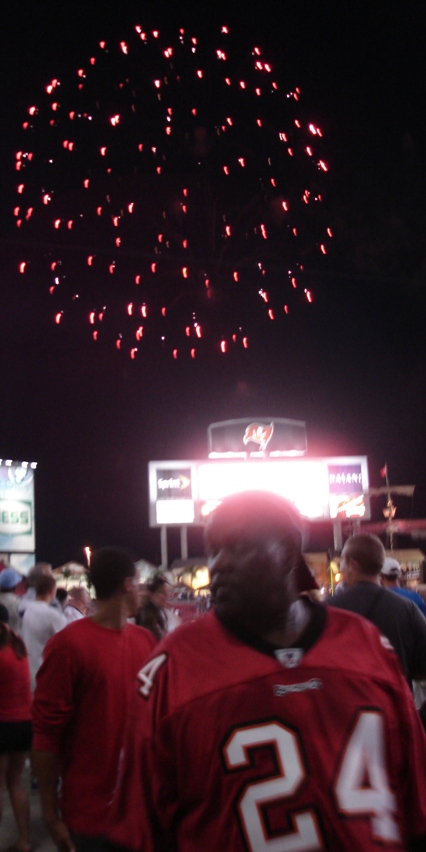 It wasn't really a fanfest because there was no meet-and-greet of any Bucs players, coaches or staffers.
It really wasn't practice because half the time there was no practice.
No, the exhibition the Bucs had for their final (unless otherwise announced) open practice of 2010 training camp at the CITS Saturday night had more the feel of a carnival. A football carnival.
There was Mean Gene Deckerhoff on the jumbotron talking about how he has barked "touchdown Tampa Bay!" into the radio microphone 641 times over 21 years as a Bucs play-by-play announcer.
There was Connor Barth kicking field goals from the sidelines in a game of "BUC," a place kicking version of the basketball challenge "HORSE."
There was Josh Freeman and Josh Johnson throwing at moving golf carts with monster targets placed upon them in a quarterback skills competition, which Johnson won in "overtime," to the protest of Raheem the Dream, who was calling the play-by-play of the event.
In all, it was a great time and Joe raises his glass to compliment Team Glazer, Mark Dominik and whoever thought this up.
The players seemed to have fun. Raheem the Dream seemed to have fun. The fans had a blast.
Nice touch by Dominik to acknowledge Iraqi war veterans who are still recovering from injuries sustained in battle who were VIPs at the practice. Dominik got the crowd to rise as one with a standing-O for the vets. Even a World War II former POW was in attendance Dominik said.
When the Bucs did practice, position coaches spoke on the jumbotron explaining the drills and what they hoped to accomplish with them, sort of a tutorial for fans.
The fireworks after the practice was a nice touch to a very comfortable evening which started just an hour before the festivities began with a nasty downpour.
Though the Bucs had a night practice at the CITS last year, this was much more fun for all involved.
Joe hopes it's a start of a tradition.