Brian Price Still On Fire
August 2nd, 2010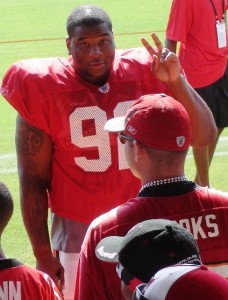 Like he wrote yesterday on Twitter, Joe hates being repetitive, but rookie defensive tackle Brian Price is a freaking beast.
His early stellar play in camp continued Monday morning as Woody Cummings of the Tampa Tribune, posting on the TBO Bucs training camp update feed, documented.
So far, DT Roy Miller is having a good camp. The only problem with that is that fellow DT Brian Price is having a great camp. Price beat a double team to make a stop behind the line during a running game drill earlier today.
This is not a knock on any other Bucs rookie. But Price is not playing like a rookie, he's playing like a man possessed. He's lightning quick off the ball and has running back-like speed to peel off the line and chase down ballcarriers. Oh, and he's strong as a Clydesdale.
The way this guy is playing Joe's isn't sure just how the Bucs are going to keep Price off the field.