Zuttah Not Feeling Much Love
July 2nd, 2010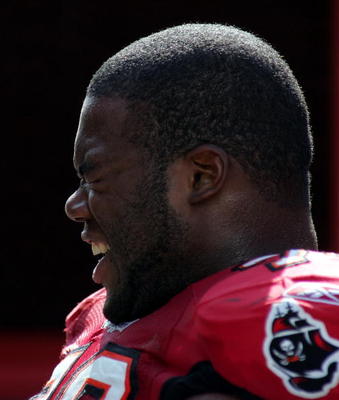 It's been a rough week for Jeremy Zuttah. A certain publication, behind the cloak of paid content, all but called him a cocky, overmatched loafer, and then Stephen Holder, of the St. Pete Times, passed on an opportunity to say something good about him and/or challenge that critique.
In a live chat with readers Wednesday, Holder wrote that Zuttah must step up because there's not going to be much behind him.
Bob – I've read elsewhere the Jeremy Zuttah has been a real disappointment. Is there anybody who currently replace him or are the Bucs going to have to look elsewhere?

Stephen Holder: The answer right now is NO. Xavier Fulton, a 2009 draft pick, is a possibility, but I have no clue what to expect from him because he's been hurt since he's been here. He'll probably get a long look though. Basically, Zuttah is going to have to step up. This will be a very telling season for him I think.
Like most players entering their third NFL season, Zuttah is at a turning point.
After a good rookie season filling in for Davin Joseph at right guard and getting known for learning multiple positions along the O-line, Zuttah was thrust into the starting left guard role last year when Arron Sears went missing.
Joe recalls Zuttah talking during an interivew last year on WDAE-AM about how he was a right tackle in college and the transition to the left side represented a big challenge for him to change his football instincts.
Zuttah's an extremely smart dude, and Joe has faith that he knows what's at stake this year in his football career. Frankly, the Bucs have much more pressing concerns.
As for their depth at the position, just add O-line to the list of areas where the Bucs are painfully void of experienced reserves.