What Day Is It Mr. Lucky?
July 31st, 2010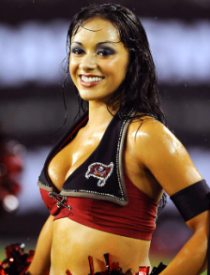 One of Joe's longtime commenters, a fellow who goes by the moniker of "Mr. Lucky," has to be a happy man today.
Because football is here.
Mr. Lucky, roughly two weeks ago, began posting a comment that was nothing more than a countdown to the start of training camp. Mr. Lucky is not a Rays fan nor does he monitor baseball in general. Mr. Lucky would rail on other sports and demand Joe and others talk football.
Mr. Lucky is one of the reasons Joe exists: to satisfy the hardcore, pewter-and-red bleeding Bucs fans who need — no, demand! — Bucs news daily /365.
While Joe has never been a training camp freak (reminds him too much of two-a-days in high school amid the southern Illinois cornfields in weather hotter and equally humid as Florida, being so sore and beat up he could barely walk), Joe will be out at One Buc Palace. Expect some photos and other goodies later.
But Joe rejoices today. To wit, respected, intelligent sports radio hosts will no longer:
* Prattle about this LUH-bron James character. Joe just wants to take a crowbar to people trying to cram down the non-basketball association down Joe's throat in the middle of baseball season!
* International kickball.
Finally, Joe's senses will no longer be assaulted when trying to listen to sports radio when Sirius NFL Radio is in commercial.
We have been liberated today, folks.
It's football, glorious football, until February!
Enjoy.