"Rookie Receivers Are Mostly Irrelevant Figures"
July 26th, 2010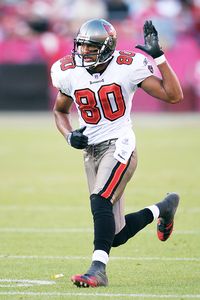 Stalinist BSPN and many other national media types are making a bid deal about Cowboys rookie wide reciever Dez Bryant refusing to abide by the rookie tradition of carrying fellow receiver Roy Williams' sweaty pads after practice last night.
Joe couldn't care less.
But Joe did see some commentary on the situation, and about rookie receivers in general, from Dallas Morning News columnist Tim Cowlishaw. He managed to dampen hopes of Bucs fans for Arrelious Benn and Michael Williams, and insult Michael Clayton in one paragraph.
Rookie wide receivers are mostly irrelevant figures in today's NFL. Unless you have the unmatched skills of Randy Moss, unless you can pull off the total surprise of Tampa Bay's Mark Clayton (never to be repeated), first-round picks just do not produce 1,000-yard totals in their rookie season.
Clayton's been reduced to a trivia question and a guy who's first name gets botched. These are humiliating times for the blocking icon.
As for Williams and Benn, as Joe has written before, if these guys grab 30+ balls each, show decent hands and make their share of big plays, Bucs fans should be quite happy. Don't expect miracles from rookies.