Receivers, Freeman Huge Questions Before Camp
July 17th, 2010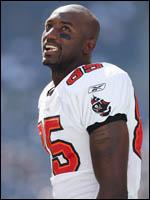 Joe admits he's been an insomniac lately. Thinking about who actually is going to play wide receiver for the Bucs and wondering how Josh Freeman will develop enough of a rhythm with those guys to WIN on opening day is enough to drive Joe batty.
Call Joe crazy, but Joe cares about winning more than anything else.
All the "lasting contender" buzz is very cute but it won't be soothing when the whistle blows against Cleveland in September.
That brings up the question of how much time Freeman might see in the preseason. Should he play more than most quarterbacks given the state of the Bucs?
Sadly, Greg Olson and Raheem The Dream don't really have much (any?) experience handling a 22-year-old starter in the preseason along with a huge crop of rookie and young receivers — and veteran receivers — who have so much to prove.
Arrelious Benn was the 39th overall pick in what was considered the deepest draft in a generation. He's got to play a lot. And Michael Williams is the Bucs' lovechild of the underwear sessions better known as OTAs. He's playing a lot.
Then there's 25-year-old Maurice Stovall, who actually caught 24 balls last year and earned a shot to see if he can get it done. Sammie Stroughter needs his time, and surely the Bucs want to get a long look at Reggie Brown to see if he's better than Clayton recaptured any of his lost glory.
Joe sincerely hopes blocking icon Michael Clayton is only around to deliver to ferocious hits to future UFL players and catch fade routes from Rudy Carpenter.
After 2009, Joe just has no confidence the Bucs know how to get this all figured out smoothly, successfully and quickly, without needing a half a season for the coaching staff to right the ship.
Hopefully, Joe hopes can stop the anxiety for a night. Perhaps Joe can take his mind off it by thinking about the Bucs' depth at defensive line and linebacker. … Ahhh, never mind.