Raheem's A True Chucky Disciple
July 14th, 2010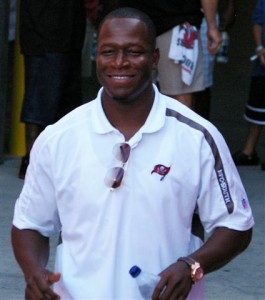 Watching the final BSPN video feature on Chucky coaching local high school football in Tampa reminded Joe that Raheem The Dream has taken an awful lot from his coaching mentor.
Raheem The Dream doesn't talk much about "Coach Gru," but he always speaks of him in the highest regard publicly. And, heck, he brought back Chucky's playbook in a big way after flushing Jeff Jagodzinski.
After losing their recent spring game, Chucky told his downtrodden high school charges that they needed savor their misery. "When you're hot. When you're sore. When you're exhausted. Those are the times that you gotta love. That's what I miss most about football. It's time like this.  You gotta love misery," Chucky said.
Last year at training camp, Raheem The Dream said players need to "learn to love to be miserable." 
On who's standing out [for their toughness] at practice, The Dream was quick to answer.

"Our O-line … John Gilmore, when he steps in there he's angry. He's violent. … Tanard Phillips, Jermaine Phillips. … You see Geno Hayes stepping up his demeanor. …Antonio Bryant not avoiding tackles in practice. …Roy Miller is tough, physical. Done everthing we've asked."

And The Dream fired a shot at fourth round pick Kyle Moore out of the University of Southern California. He said Moore has not been consistent with his effort in the heat on a daily basis. "I tell him. 'You have to learn to love to be miserable,'" The Dream said.
First, Joe finds it interesting in this 2009 quote that Raheem The Dream cited Antonio Bryant as a tenacious player in practice.
That aside, let's not forget that Raheem The Dream is a true Chucky disciple.
Enjoy the Chucky video. His misery speech to the kids is at the end.