Raheem The Dream Should Return For 3rd Season
July 19th, 2010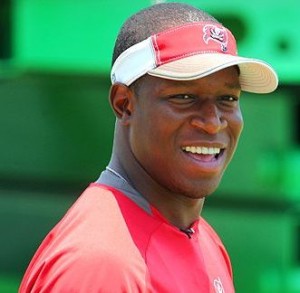 Having only cobbled together three wins last year and going through two coordinators by the halfway point of the season, it's easy to see why many are skeptical that Raheem The Dream will have any lasting power as the Bucs head coach.
But no less an authority than Herm Edwards believes Raheem The Dream will lock up some job security this season.
Twittering as he often does early in the morning, Herm fielded a question from a Bucs fan about Raheem the Dream and gave a short but clear endorsement of him.
@TWOZRO:  can the Bucs improve enough to keep Rah Mo employed? I want to see him blossom.

@HermEdwardsESPN:  Yes
Unless the Bucs totally trip up this season — not unlikely given the fact quarterback Josh Freeman has limited weapons and the defense will rely too heavily on rookies on the defensive line — Joe can easily see Raheem The Dream coming back for the 2011 season, provided there is a 2011 season.
Six wins would pretty much lock up Raheem The Dream for another season.