Hate Mail: Joe's A Masochist, Joe's A Chicken
July 9th, 2010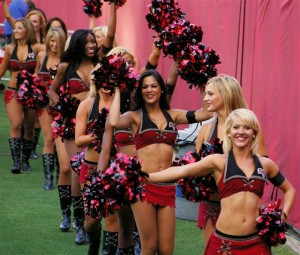 Joe introduced his Hate Mail feature recently. In case you missed that, Joe is committed to interacting with as many readers as he can, even those who bomb Joe with heinous venom and personal attacks.
So Joe is now taking that previously off-line hate mail in his inbox and bringing it here in a weekly feature simply titled, Hate Mail.
If you have a problem with Joe, fire away to hatemail@joebucsfan.com. Joe will answer some select questions right here, likely those void of profanity.
Hey Joe,
It figures you want hate mail you masochistic a**hole. All this site is is a bunch of negative crap. You're probably not even a Bucs fan. The only reason you have a following is because there are so many rednecks and morons around here who don't know any better. If there was decent radio and media in this town, there'd be no reason to come here what Joe has to say. Nice life.
 
Tom in Brandon (Joe doesn't publish last names)
 
Dear Tom — First, let Joe assure you that he is an absolute diehard Bucs fan who gains no perverse pleasure from hate mail. But that was some real good hate. Thanks. Good work. You're talented. Also, you might want to read JoeBucsFan.com more closely. There's a lot of positive interviews and commentary here. Check the archives. However, when your team wins three of its last 20 freaking games and is a laughing stock of the league in 2009, commentary tends to trend negative.
 
I've got some hate for you, Joe.
I think it's so weakass that you hide behind this website trashing guys like Rick Stroud and other legitimate journalists while you don't even show your face. What makes you so great? You have no right or place to rip those guys who do your dirty work for you. I just can't believe all the sheep who think this site is so great. It's not. You'll never last.
 
Kelly
 
Dear Kelly – Thanks for the hate, buddy (or perhaps you're a naughty woman?). Joe's not hiding. In fact, Joe has published his identity on this site, and Joe uses his real name during his many interviews on local sports radio, as well during some national appearances and once for an interview with ESPN The Magazine. Also, Joe can assure you all the Bucs beat writers know who Joe is personally, including The Mad Twitterer, aka Rick Stroud, Vacation Man, Woody Cummings, eye-RAH! Kaufman, the colorful Pewter fellows, etc. Both founders of JoeBucsFan.com have worked in media locally on various levels since the late 1990s.
 
And Joe takes great offense to calling his many tens of thousands of readers sheep. How dare you insult the most intelligent, passionate and informed Bucs fans on the planet. As for never lasting, it's too late. Joe's traffic is too big. It has no less than quadrupled since last July. Joe is here to stay.