Don't Underestimate Donald Penn
July 23rd, 2010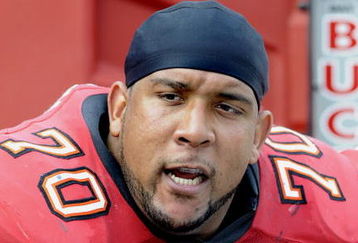 Joe laughs every time he hears fans say that Donald Penn will be in training camp or that Penn would never sit out part of the 2010 season.
Why, for some, is it so hard to believe Penn might have the stomach and desire to sit out?
First off, Penn should not be broke. He earned $2.8 million last year. And he couldn't have eaten that much food.
Second, no fans, or even media, can say they know what makes Penn tick. Is he a gambler? Many people are. Today alone there will be tens of thousands combined at Derby Lane,  the Hard Rock casino and other wagering outlets in the Bay area putting their money on the line.
Penn might look at Demar Dotson and Josh Freeman and like his odds of squeezing the Bucs for a better contract by waiting to report. Maybe even waiting as long as Week 3 of the season to sign his $3 million+ tender.
If he sits out that long, he spares his body the risks and wear of training camp and preseason, and he forfeits roughly $600,000 in pay (before taxes).  The Bucs have a bye in Week 4, and perhaps Penn is giddy at the thought of earning $2.5 million for three months of work and a crack at unrestricted free agency.
Joe has no clue what Penn's going to do. But Joe knows he wouldn't bet a dime that Penn's in training camp.