Donald Penn A Likely Factor In Vincent Signing
July 10th, 2010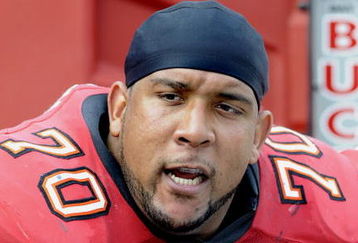 Joe likes the signing of experienced left guard Keydrick Vincent yesterday.
Of course, he's a huge upgrade to the thin ranks of reserves on the Bucs offensive line. Vincent, 32, was a starter for the Panthers the past two seasons. However, Joe's not sure how, if the 32-year-old Vincent starts over Jeremy Zuttah, that is a good thing for the rebuilding Bucs.
This is the plan?
Astute JoeBucsFan.com analyst and former Buccaneers defensive end Steve White has several takes on the Vincent signing on his blog. Joe recommends you check it out.
One of White's strong takes is that Vincent is part of a Plan B in case Donald Penn is on his couch in September.
But I personally believe this is more about the prospect of not having Donald Penn. When Penn got hurt last year the Bucs had Zuttah line up at tackle. It was some what disasterous but that's what they went with. I'm thinking that if Penn really holds out moving Zuttah out to tackle and having Vincent step in at guard might be seen as preferrable to having a guy like in there who has never started a game in the NFL and who only recently even took up football.
Of course, White is referring to the Bucs likely not wanting to have hoopster turned bright green left tackle Demar Dotson protecting Josh Freeman's blind side.
(Hey wait, didn't Jeff Faine just say Dotson could be one of the all-time greats?)
Again, Joe likes the Vincent signing but hopes Zuttah, entering his third season, makes him an afterthought.