RedZone Channel (Reportedly) Coming To CITS
June 1st, 2010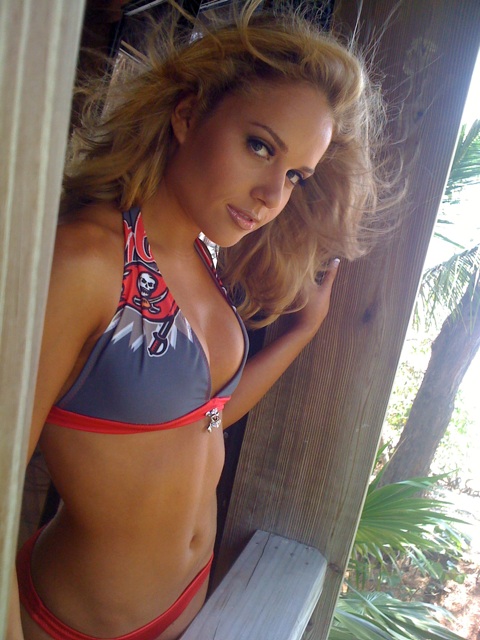 In recent weeks, largely thanks to Mike Florio, the creator, curator and overall guru of ProFootballTalk.com, Joe has learned that the RedZone Channel will be available in all NFL stadiums this season.
Don't know what the RedZone Channel is? The RedZone Channel is a network broadcast on Sundays carried by upstanding, customer-friendly organizations like DirecTV, Dish Network, Verizon FIOS and Knology. Whenever a team enters the red zone, the RedZone Channel immediately goes live to said game.
Joe has to confess he has never watched the RedZone Channel. It costs a wee bit extra in addition to the NFL Sunday Ticket (for DirecTV subscribers like Joe) and Joe has really never had a burning desire to watch it because it appears geared towards those who participate in fantasy football.
As Joe has written several times, Joe's idea of a fantasy has nothing to do with football and everything to do with Rachel Watson.
Joe has friends that do have the RedZone Channel and Joe is told the channel is crack-like addictive and, in some cases, better than watching an actual game.
As Joe has also written a number of times, NFL owners have to find a way to make fans get their arses off the couch and fight traffic and pay hideous costs to attend games and buy obscenely priced beers. With the advent of HDTV, more and more fans prefer to stay home on their leather couch in the air conditioning with colder, more inexpensive beer just steps away, as well as a clean bathroom with no lines at the urinal.
One way NFL warden commissioner Roger Goodell has concocted to lure fans to the game is to offer the RedZone Channel at all NFL stadiums. This presents an interesting predicament for Team Glazer and the Bucs.
As you may have noticed in the list of quality cable carriers above, Out House Networks is not among them. For good reason. That syndicate would rather shake down customers into bankrolling an insipid yenta news channel that believes people would rather find out the temperature every 10 minutes than add the NFL Network. It would rather subject its prisoners (subscribers) to mindless traffic updates every 10 minutes, deliver so-called news about a backyard BBQ fire in Balm and ambush viewers to a kickball evangelist turned news anchor slander a solid All-American businessman like Larry Flynt by labeling him as a "pornographer."
Yet this same outfit refuses to give innocent subscribers something they crave: the NFL Network. And without the NFL Network, a carrier cannot have the RedZone Channel.
So what does Out House Networks have to do with the Bucs and the CITS broadcasting the RedZone Channel? Out House Networks is a Pewter Partner with Team Glazer and the Bucs.
So imagine going to the CITS this fall and, as mandated by Goodell, the CITS will offer the RedZone Channel, which will get innocent convicts of Out House Network angry they cannot receive the RedZone Channel at home.
Joe suspects this practice of broadcasting the RedZone Channel at the CITS will make for many a long day for Out House Networks mouthpieces trying to concoct more excuses for denying prisoners the NFL Network.
Good job, Goodell! Keep the heat up!
So this fall, Bucs fans will have something else to gawk while at the CITS other than the Bucs cheerleaders, such as the lovely Holly Sellers pictured above.