Josh Freeman Wins Over Pete Prisco
June 5th, 2010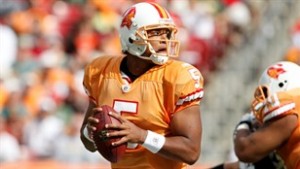 There were lots of critics — Joe included — who were not doing cartwheels when Mark Dominik traded up last spring to draft quarterback Josh Freeman.
Pete Prisco, of CBSSports, had a national audience for his disgust.
If intangibles were able to win games alone, Freeman would be a Hall of Famer. Joe loves his attitude and his work ethic and his personality. This also seemed to have won over Prisco, who now believes Dominik got a steal in Freeman.
After watching Freeman start nine games last season, I really believe the Bucs have the right guy to turn their team around. Even though he didn't exactly light it up, he showed me enough to think he can be special.

After talking to him this week, I'm convinced of it.

There are certain players you talk to that just seem to get it. They are fans of the game. They know the league. They know what they need to do to be a success, unlike a player like JaMarcus Russell, who only seemed to know what he had to do to increase his pants size.
There are a lot of positions on the Bucs that are a concern: running backs, wide receivers, defensive tackles and linebackers.
The starting quarterback doesn't seem to be one of them.