"It Feels Like A College Atmosphere"
June 19th, 2010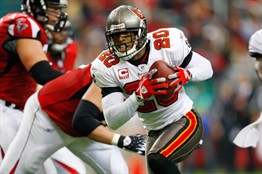 Bucs graybeard cornerback Ronde Barber, the only leftover from the Bucs Super Bowl team, sits down for an interview with Rich Eisen on the NFL Network.
Among the items discussed were how young the Bucs are, the development of Josh Freeman and the energy that Gerald McCoy has brought to the defense.
In the interview, Barber seemed to bristle just a little bit when Eisen tried to compare McCoy to former Bucs great Warren Sapp. "Nobody's going to wear the Double-9."
Eisen rattled off all the names of prospective Hall of Famers that played for the Bucs when Chucky guided the team to the Super Bowl win but didn't include Barber. Joe believes Barber should at least be in the conversation.