Hovan Says He's "Not Walking Right"
June 12th, 2010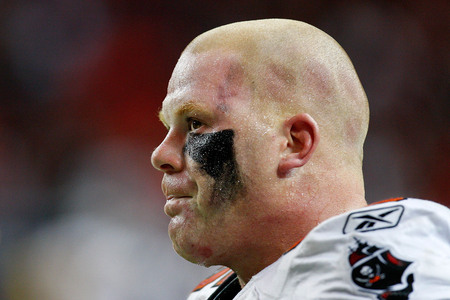 Apparently, the latest casualty of the Bucs' veteran purge, Chris Hovan, doesn't walk like he used to.
Scary.
Hovan, one of the newest members of the St. Louis Lambs, told the Post-Dispatch that his body has taken a beating over his 10 NFL seasons.
Ten years in the trenches of the NFL have taken their toll, new Rams defensive tackle Chris Hovan conceded. "I'm not walking right anymore," he said.

His enthusiasm hasn't suffered similarly, though. "I'm still blessed to be playing football," he said. "I do still have a passion for this game, and I have two or three years left in this old body."
Joe finds it interesting that Rams head coach and defensive guru Steve Spagnuolo sees the value in having a worn down veteran on his roster, a growing rarity in today's NFL. Considering Hovan's public comments, it's obvious that Spagnuolo is looking to Hovan for off-the-field impact as much as he is sacks and tackles.
Joe wishes Hovan well, and it'll be interesting to see what he can contribute. But perhaps it's time he steps away if he's having those kinds of physical issues already. Another couple of seasons might not be worth the money.
Perhaps he could become a makeup artist?