Bull Rush: Survival Tips For The Bubble Guys
June 5th, 2010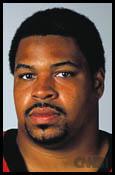 By STEVE WHITE
JoeBucsFan.com analyst
Former Buccaneers defensive end Steve White (1996-2001) is a devoted student of the game. He's even authored a coaching guide and coached defensive linemen at the University of South Florida. And after all those years breaking down film with former defensive line coach Rod Marinelli and the other architects and legends of the Bucs' defense, White shares his knowledge with JoeBucsFan.com readers every week in his must-read Bull Rush column. 
Today, as the Bucs are in the midst of their offseason grind, White shares some wisdom about what it takes for the guys at the bottom of the roster to stick around come September.
Every year, every team puts out wall-to-wall information on their top draft picks during the offseason. You hear about how great they are doing in OTAs. You see videos of them working in the community. Talk radio gives you the pros and the cons of each guy every day. And nowadays the blogs will blow up with every little incident, positive or negative, that even tangentially is associated with them.
By the same token, you have no shortage of people offering up their advice on what these guys need to do to succeed in the NFL.
You turn on ESPN or the NFL Network and a bunch of different pundits will weigh in between now and September about what Gerald McCoy, Brian Price, Arrelious Benn, and Mike Williams need to do in order to make plays this year. On the radio you will hear all kinds of fans from the casual to the over-the-top couch potato analyst giving their two cents, as well.
And the truth of the matter is out of all of the noise there will be some good, and even sometimes great advice, floating around that these guys should pay attention to.
But what about the guys who aren't at the top of the roster?
What about the undrafted free agents or late draft picks? What about the second-year guys who were on the practice squad last year? Who throws out advice to them about something as simple as how to make the roster, let alone make plays this upcoming season?
Well….I do.
And I can do this because I have truly been there. I was a 6th-round pick cut by the team that drafted him. I was a practice squad player who, after being brought up to the 53-man roster during my rookie season, was cut for a game to make room for a guy we needed because of injury. And I was also a guy who except for about two seasons out of the seven seasons I lasted in the NFL, was always on the quote unquote "bubble."
Now because there are so many guys around the league and on the Buccaneers roster who fit this description I can't possibly give every guy personalized advice. But what I can do is give a few pieces of wisdom that experience has shown me will go a long way towards ensuring they have a job after training camp, or at the very least help them make sure that they did as much as they could do towards that goal with no regrets.
The first thing "bubble" guys have to do is know their role. And what I mean is they have to understand that in a lot of ways they are expendable.
They have to treat every day on their roster as if it might be their last because it truly could be. In the offseason, teams are allowed to carry more than 80 players and you see guys get shuffled in and out at the bottom of the roster all the time. All it takes is one bad day or one bad week and "BAM, you might be looking for a new place of employment.
That realization should fuel everything about the way a "bubble" guy carries himself. And that brings me to another piece of advice based on the same principle. "Bubble" guys have to know that not everyone is equal in the NFL. Whether that's fair or not, it is what it is and you just have to accept it and respond accordingly.
There will be guys who can go and hangout all night in the streets and show up late in the morning who will be given a pass or even a few passes. If a "bubble" guy tries that, he's likely to experience a zero tolerance policy. For that reason, it's critical to pick and choose who you hang with and try to find guys who have just as much to lose. You have to be willing to sacrifice being out in the streets in order to focus on keeping your job, at least until your standing is higher in the organization. It won't guarantee that you don't find off-the-field trouble, but it at least won't hurt to try.
By the same token a "bubble" guy has to understand that double standards exist in the meeting rooms and on the field, as well.
There will be vets and high draft picks who will have varying levels of interest in the meeting rooms. Some will take copious notes and hang on a coach's every word. Others may never open a notepad and may in fact nod off when his coach is talking.
If you are on the "bubble" you can't be concerned with what other guys are doing. You have to look out for numero uno, and that means you need to be a better student in the meeting rooms than you ever pretended to be in college. 
You have to understand that coaches get fired behind mistakes their players make. A coach may be willing to overlook a few mistakes by a vet who makes plays for him, or he may put up with mistakes from a high draft pick because he knows he is stuck with them regardless. But a "bubble" guy? Let's just say that a "bubble" guy is a perfect foil for coaches to use to "make a point." Don't be that guy.
And while on the subject, don't be late. Not to anything. Not to weights. Not to practice. Not to meetings. Not to lunch.
Rightly or wrongly, a bubble guy's punctuality is seen as a referendum on their commitment to the game and their job. Again, that may not be fair, but neither is life. Deal with it. I don't care if you have to buy 17 alarm clocks, have your ass where you're supposed to be there BEFORE you're supposed to be there, every single day.
Knowledge Will Earn Respect, Support
Another point will sound like a cliche and to some people it is but for "bubble" guys it can't be: Get in your playbook.
Sounds simple right? But trust me, it isn't. On the one hand, I can promise you that the quickest way for a "bubble" guy to get noticed by the coaching staff is for them to always be where they are supposed to be on the field. If every time a coach asks you a question you have the answer, immediately it inspires confidence in you and it makes a positive impression.
On the other hand, one of the quickest way to ensure that your reps get cut down to the bare minimum is to keep screwing up the calls. As a "bubble" guy you are already going to be the low man on the totem pole, fighting for reps just to show what you can do. But when you don't know your playbook, and it's apparent you don't know your playbook, you won't ever get a chance to show what you got. Instead, after awhile they will just come and tell you to take "mental" reps, as sure a kiss of death as there is in the NFL.
And let me tell you something, knowing your playbook can and will also endear you to your teammates.
There was a situation where we had an undrafted undersized rookie defensive back in training camp and the numbers were going to make it hard for him to make the team. But every day the guy not only made plays, he ALSO was always perfect on his alignments and assignments. I mean if he was supposed to be at 5 1/2 half yards off the wide receiver before the snap, you could bet your house he would be there and never go homeless.
And guess what? As camp was ending and the final cuts were coming I personally witnessed some high profile veteran players lobbying for the guy to get one of those final spots. Now I don't know if the coaches were planning on keeping him or not before that, but I do know that the guy ended up not only making the team but going on to have a very productive career in the NFL both here and for several other teams.
You Won't Make The Club In The Tub
Another bit of advice is this, and it's going to sound crazy. As a "bubble" guy you can't afford to be hurt. I have heard before that the most important trait for a player is availability, and that goes double for guys on the "bubble."
Now I know there are some injuries that you just can't overcome in terms of still going out to practice. But when it comes to muscle sprains or tweaked ankles, those are just things you have to find a way to deal with. Our defensive line coach used to say that the last day your body will feel good is the day before offseason workouts start. And he was right. You have to have the kind of mindset where you ask yourself if a little bit of pain is worth all of the perks that come with playing in the NFL. If you are on the "bubble," you aren't going to make the club in the tub. You have to be out there every single day busting your ass and showing up on film. There is no film in the training room.
I tried to give this advice to a fellow "bubble" guy one year but he wasn't trying to hear it.
It was disappointing because here was a guy who hadn't made the team his rookie year but worked his tail off and was on and off the practice squad during the season. He kept improving in the offseason and looked to have a really good chance of not only making the team his second time around, but also contributing.
But in the last week of the preseason he sprained his ankle and then he threw everything away. The funny thing is, normally I wasn't a guy who went around trying to "mentor" other guys or handing out words of wisdom because I was too busy trying to make the team myself, but this one time I tried to explain to him how important it was for him to get back on the field and how seriously our defensive line coach took it when guys weren't out there working. I believe his exact quote to me was "Nah playboy, I got this. My agent already said I made the team."
Needless to say his agent got it wrong.
But the damage was done. He never got another shot and was never heard from again.
The last nugget of advice I want to give for every guy on the bubble is to be willing to do anything and everything they will allow you to do. If a bubble guy is not in every special teams meeting they don't deserve to make the roster. I don't care if you are the third team left tackle or the fourth team defensive end, if you are on the bubble you had better be trying to get on the field any way you can.
Who cares if you aren't fast enough to run down on kick off team? At least show that you are WILLING to do it. That shows the coaches that you are both hungry and humble, and they appreciate that.
Bigger than that, if you actually make the team, it can make the difference between whether you are active or deactivated for each game. You might be a great pass rusher, but if you aren't a starter and you can't block on kickoff return, you will probably be in street clothes on Sundays. You might be the second coming of Barry Sanders, but if you aren't in the running back rotation, you had better be able to cover a punt in order to even have a chance to sniff the field.
There is one thing I remember Coach Dungy always saying when he was here. He said every year that we might not keep the best 53 players but that we would keep the best 53 guys for our team. Getting in and staying in the NFL is about a lot more than just athletic ability and talent. When you aren't that big name guy or hot shot high rookie draft pick, you have to work like hell to get your foot in the door and then to stay in the room.
Doing all these little things will at least get you headed in the right direction.