Bull Rush: Could The Bucs Be Winners In 2010?
June 16th, 2010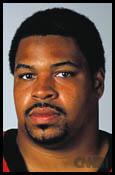 By STEVE WHITE
JoeBucsFan.com analyst
Former Buccaneers defensive end Steve White (1996-2001) is a devoted student of the game. He's even authored a coaching guide and coached defensive linemen at the University of South Florida. And after all those years breaking down film with former defensive line coach Rod Marinelli and the other architects and legends of the Bucs' defense, White shares his knowledge with JoeBucsFan.com readers every week in his must-read Bull Rush column. 
Today, White takes a look at what must fall into place for the Bucs to crank out a winning season in 2010.
On paper I have already stated my over-under for Bucs wins this season is six. I have even gone so far as to state the games I think they are likely to win, and I've challenged those who believe they will win more than six to state the games they put in the win column.
But football isn't played on paper, and for that reason I figured I might as well spell out how the Bucs can overcome expectations and put together at winning season.
Stop laughing.
Back in 1997, I bet there weren't many people, whether Bucs fans or pundits, who picked us to have a winning season. That isn't to say that this Buccaneers team is analogous to that one. It surely isn't. But it IS to say that you never know until the whistle blows.
So here are the things that would have to happen for the Bucs to pull it off.
First and foremost, all of the starters will have to stay healthy and available. One of the underplayed keys to how bad the season went for the Bucs last year was how many injuries they suffered to key players, plus the effect it had on the defense to not have Tanard Jackson the first four games.
Think about it for a second.
T-Jax missed four games and still tied for the team lead in interceptions last year. Jeff Faine went down with an injury and our offensive line suddenly couldn't block anybody. Jermaine Phillips goes down and Sabby is forced into a starting role which he may or may not have attained otherwise. Our nickel corner position was almost a revolving door. Our best wide receiver hands down, Antonio Bryant, missed three games. Our starting fullback goes down with an injury, which forces Earnest Graham into the lineup in a role in which he played well but was was unfamiliar with. We even lost our Pro Bowl return man, Clifton Smith, for part of the season.
When you are already dealing with the firing of both coordinators, a first time head coach, and a pretty tough schedule, and having very few veterans on the team, not having stability at every position for every game made things that much worse.
This year, it will be even more important to keep everyone healthy as, in my opinion, overall I think the team has more talent in the starting positions. But I don't have a lot of confidence in a lot of our backups.
It's Not All About The Rookies
The next thing that has to happen is some young players have to take the next step up in their play. And I don't mean the rookies who will undoubtedly have their own growing pains. T-Jax, Aqib Talib, Geno Hayes, Barret Ruud, Jeremy Trueblood, Sammie Stroughter, Jeremy Zuttah are all players who have to play well for us to have even a shot at a winning season.
I would include Josh Freeman in that group, but as a second-year quarterback I won't put that much on his shoulders. It has to be the guys around him who make things easier for him in order for us to win.
If Freeman has to go out and win every game for us, then we are in a world of trouble. Our defense has to keep other teams from scoring so much that our offense has to put up big points every game. And our offensive players around Freeman have to perform at a high enough level so he can be a part of the solution instead of THE SOLUTION.
We already have pretty good talent in other positions that I feel confident in. I think Ronde will play well enough for us to win as he always does. I think Stylez White is going to be a force rushing the passer. I think Faine, Donald Penn (if he signs) and Davin Joseph will anchor a much improved offensive line.
I continue to believe that Kellen Winslow is one of the best pass catching tight ends in all of football. But we will rise and fall with the development and improved play of those other guys this year.
Some Dungyball Would Help At Home
The third thing we have to do is once again is get back to game plans that, especially at home, play to our strength.
People used to always complain about how "boring" our offense was when Coach Dungy was here, but one thing they never seemed to understand was how having a "boring" offense and a dominating defense helped us be so strong on our home field.
There are few places in the NFL where you play from the first game to the last and will have steam rising off of the field.
For a lot of teams, especially late in the season, the heat is a shock to their system. Then when we pound the ball at them play after play and our defense keeps getting off on third down, and it becomes a demoralizing affair. I used to literally see teams wilt in the fourth quarter in Raymond James Stadium after we had pounded them over and over all day.
I like the passing game as much as the next guy, but throwing the ball a lot in this kind of weather pretty much lets the other team off the hook. Especially when we have a pretty physical offensive line and a stable of physical running backs.
On defense, we have to continue to play as we did at the end of 2009, where we put pressure on the offense and made the opposing offenses adjust to us rather than allowing them to dictate the game.
We probably never will have a big hulking defense that will just stay in one place and pushes people around. Instead we are lean, quick and fast and we have to use slants and blitzes and different looks to keep the opposition off rhythm.
We HAVE to create more turnovers in order to put our own stamp on games. And we are going to have to win on first down a lot more to set up third-and-longs where we have the advantage. As much as people have focused on the defense being last in the league in run defense, and rightfully so, very few point out that we were No. 10 in passing defense and tied for ninth in interceptions, even though we gave up a bunch of big plays.
And finally, yes, we have to have our rookies play well. This, for me, is the most problematic aspect of the prescription for us winning. BUT, it could happen.
It's scary to think that we have to rely on Arrelious Benn, Mike Williams, Gerald McCoy, Brian Price AND Myron Lewis to at least play decent football for us to have a winning season, but that's where we are at. Now I'm not saying they have to come out the gate playing like Pro Bowlers, but what they can't be is the weakest link. And they have to improve as the season goes on.
We won't win if teams can single-block McCoy all year. We won't win if Price can't hold the point. We won't win if Lewis isn't an upgrade over Elbert Mack on the deep ball. We won't win if Benn and Williams can't get open AND catch the ball when its thrown to them.
Well, we can win a few games, but we won't have have a winning season or anything close to it.
That's a lot of pressure for a rookie class but it is what it is.
At this point, you might expect me to weigh in on some position battles that everybody is paying attention to like Cadillac Williams vs Derrick Ward or Sabby Piscitelli vs Sean Jones or even Jerramy Stevens vs John Gilmore. Well, honestly while I think those battles make for good debates they are kind of incidental to how far we go this year.
Whether Caddy or Ward start, I think our running game will go as the offensive line goes. Whether Sabby or Jones starts, I think that position won't win or lose us many games this year, if everybody else plays well. Whether Stevens or Gilmore is our blocking TE, neither guy is that much of an intimidating force.
So the question is can all of the positive things I listed happen in 2010? I have to say I don't know.
There is the potential that it can, but even with all the preparation in the world it's also going to take some luck. For that reason, I'm sticking with my prediction of an over/under of six wins. But by the same token, I am hoping to be pleasantly surprised.
This post was inspired by our new columnist "The Optimist" so you have him to thank/blame for it.