Bucs Say Dominik Was Off The Record
June 17th, 2010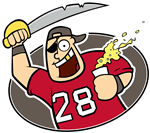 Buccaneers new media general Jonathan Grella has informed JoeBucsFan.com that Mark Dominik's in depth speech and Q&A session with season ticket holders this week was off-the-record and not for media publication.
The session was recorded by WhatTheBuc.net,  which is a long-standing Bucs fan site run by a part-time local media personality known as "Old School," who does fill-in host work on WQYK-AM 1010, a reputable sports radio station.
Joe heard the audio, knew it was from a media guy, and had no reason to think it was bogus or obtained improperly. So Joe listened to the audio and posted a snippet of Dominik's comments about Donald Penn.
To be blunt, Joe has spoken with "Old School" from time to time and there are few nicer guys or bigger boosters of the Bucs than "Old School." Joe is confident beyond words this recording was not done to ambush Dominik or performed for some malicious reason. That's not "Old School." He doesn't roll like that.
All that said, Joe does hold himself to standards. And if the Buccaneers say something was off-the-record, then Joe will honor their statement. So Joe has removed the post.
What Joe really believes, well, he's just going to keep that off the record. But Joe does suggest the Bucs pay closer attention to what's going on in the media. They do pay people for that.