Barrett Ruud Likes Kelly Kapowski
June 24th, 2010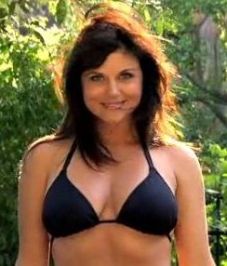 Joe stumbled across a FoxSports.com video in which Earnest Graham, Ronde Barber and Barrett Ruud talk about what they like to do in their free time.
Ruud confesses to having been a big fan of "Saved by the Bell."
Joe found this item to fall under the category of "too much information." It's unsettling news bordering on disturbing.
For those unaware, "Saved by the Bell" was some TV series centered around the lives of four high school kids, played by, you know, high school kids. One of the stars blossomed into a beautiful woman, Tiffani-Amber Thiessen, pictured above, played the character of Kelly Kapowski, who Ruud cited as his favorite.
The photo above is one of the very few Joe could find of Ms. Thiessen that borders on non-porn. The vast majority of other photos of Ms. Thiessen will surely get many of Joe's readers fired. NSFW indeed!
Now Joe never watched the show, basically because it really creeps him out to think of ogling over 15-year old girls which is dangerously close to dirty old man syndrome.
Ruud is not alone in his liking of this show. Joe knows way too many guys who also are enamored by it. Joe is not among them. Just go to TheBigLead.com sometime and type "Kelly Kapowski" into a comment and watch what happens.
And what is it with TBS and these vapid teen angst shows? This "Dawson's Creek," how can anyone take a show seriously when Katie Holmes is known to regularly crawl though a guy's window in the middle of the night? That's about as absurd as the scene in "Animal House" with a flying woman.
Now Joe has to admit the thought of Katie Holmes entering Joe's lair unannounced in the wee hours of the evening through a window piques his interest, but really?
At least Joe's fantasies are somewhat plausible.
To see more of what gets Ruud excited and what Graham and Barber like to do on their days off, check out the video below.