Rock Riley In For The Big Dog
May 14th, 2010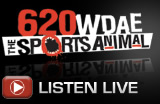 Veteran Bay area sportscaster Rock Riley jumps into the hot seat today filling in for Steve Duemig, the dean of Tampa Bay sports radio, at 3 p.m. on WDAE-AM 620.
A lifelong baseball man and the guy who chased down defrocked Jim Bates at a fast food restaurant, Riley always talks his share of Buccaneers football, and he's got excellent sources within the team.
Click here or on the logo above to listen online.  And don't forget to call in and show Rock some love.