Mario Urrutia Arrested, Released From Jail
May 18th, 2010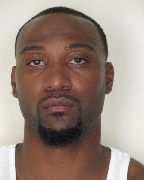 Congratulations to Bucs wide receiver Mario Urrutia for seemingly making a very wise move after being arrested late Saturday night in Hillsborough County for "violation of a non-resident driver's license."
Per his arrest report, Urrutia told authorities he was "self employed" in the occupation of "sports." 
It's standard for police to ask an arrested party the name of his or her employer and occupation. Joe's never understood why a Buccaneers player or anyone else trying to stay under the radar would actually give that information to authorities, but most do.
Once word gets out around the jail that a Buccaneer is in the slammer, it's inevitable that the media will find out.
Urrutia didn't.
Unfortunately for Urrutia, he likely was outed by some voyeur on the St. Pete Times' Mug Shots Web site, where the capitalist journalists over there cash in on those who have been arrested. And the Times' Stephen Holder broke the news very late Monday night.
Joe suspects the Bucs won't care about this goofy screwup by Urrutia. It's not like he ripped off his helmet and swung it at Donald Penn, or belted a cab driver, or anything punishable like that.