Jimbo Fisher Talks To Joe
May 15th, 2010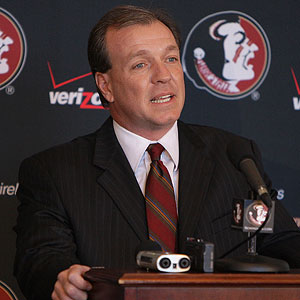 Florida State football coach Jimbo Fisher — damn, that's weird for Joe just to type that — came to Tarpon Springs yesterday and Joe had a sitdown with the new Seminoles coach (along with good guys Brian Landman of the St. Petersburg Times, Gene Williams of Warchant.com and local sports TV and radio personality J.P. Peterson).
No, this is not a Florida State post. Bucs fans recognize there are all sorts of connections between Florida State and the Bucs.
First, there's Derrick Brooks and Warrick Dunn. Also, there are two and potentially three new Bucs who are from Florida State. Fisher spoke about the aforementioned players and what Bucs fans can expect from newcomers linebacker Dekoda Watson, wide receiver/return man Preston Parker and if he can pass a physical, tight end Caz Piurowski.
Though this is Fisher's first year as the Seminoles head coach, he was Bobby Bowden's offensive coordinator the past three seasons so he is familiar with FSU players of recent history.
(Fun fact: Fisher and Raheem the Dream have a mutual best friend: Steelers coach Mike Tomlin. Fisher and Tomlin coached together at the University of  Cincinnati. In 1999, Fisher was the Bearcats offensive coordinator and Tomlin was the defensive backs coach.)
JoeBucsFan: As you know the Bucs signed one of your former players Preston Parker. Parker seemed to be a special player. Having to play his senior year at North Alabama, a Division-II school, how much did that hurt his development?
Jimbo Fisher: I don't know if that set him back. You'll be amazed sometimes at how many Division-II level players and the quality of athletes that play there when they transfer in and do some things. I think what may have set him back was structure-wise. He had to learn a new offense. Anytime you don't know what you are doing as well as you did before, it slows you down from doing what you are capable of.
As a competitor, I don't know if that slowed him down. But it was probably just the change.
Joe: Joe calls Parker a poor man's Dexter McCluster. Your thoughts?
Fisher: Probably because [Parker] doesn't have the blazing speed. He may not have the top end speed but I tell you what the guy is now: He plays in a game as fast or faster than he runs in a 40. He is extremely competitive and he is extremely tough and he's not going to shy away from anything or what you want him to do. I think that's where he makes up for his lack of true blazing speed.
Joe: What made [Bucs seventh round draft pick] Dekoda Watson such a tough linebacker?
Fisher: First off, his athletism. He can run, jump, has size, you know what I mean? He can rush on the edges — a very good pass rusher. I mean he can get those hips and sink and run. He can run with you in space and he can hit you.
Joe: Was there anything in particular that Watson did that gave you fits in practice, was there something he did that your offense in practice was never able to overcome?
Fisher: Dekoda drove us more crazy when he was pass rushing. He did a great job in other things but he had that natural knack as a blitzer and a pass rusher to cause us a lot of problems.
Joe: What do you know about Caz Piurowski's situation? The Bucs signed him as a free agent and he couldn't pass his physical due to a bad knee. It seems the Bucs still want to sign him and Piurowski still wants to sign with the Bucs but the physical exam is the problem. Do you have any update on Piurowski?
Fisher:  It's a shame. He can be a really good player. He's big, he has size, he can block, he's got ball skills. He was really coming into his own — it's a shame he got hurt when he did. He was having a great season. He can play in the NFL. I don't think there's any doubt. He's an NFL player. I think he just needs an opportunity.
Joe: I don't know if you had a chance to talk to him or his family [Piurowski's father, Paul, was a linebacker for Bowden at Florida State] or Caz about his status? It sounds like he still wants to play for the Bucs.
Fisher: He does, but since I've been on my [golf] tour, I haven't had any contact with him. He has a great family, great mom, great dad and he's a great kid himself.
Joe: Joe knows that Derrick Brooks and Warrick Dunn are very involved with your program — Brooks is on the school's board of trustees. A lot of your players obviously grew up watching those two. How much do those former Bucs mean to your players?
Fisher: [leans back in his chair and spreads his arms wide] (Brooks and Dunn) are their heroes. I mean they are heroes to the kids. When you talk about, "This is the way you act off the field. This is the way you act in the classroom. This is the way you conduct yourself… " They are both carbon copies [of each other]. They are both poster men for how you want your players to act in all facets of life. I mean they are complete people. To have two guys of that caliber and to have played at the high level they played and to conduct themselves as men to the level they have done it, I don't know if there's any better ambassadors as Derrick Brooks and Warrick Dunn.
Brooks of course is back on campus a lot and I've seen Dunn a number of times on the golf tour. At different times he will come by and speak and he's still very associated with us.