"I'm Not Saying I'm Bill Belichick. But …"
May 13th, 2010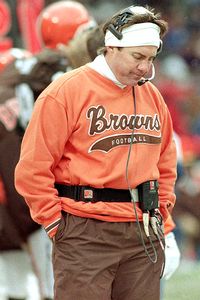 Raheem The Dream obviously has done his share of self analysis since the 2009 season ended. That's the only way "to be your best self," as he likes to say. 
And apparently this self-study featured enough deep thought — seemingly sans research — for him to inexplicably compare his high-pressure situation in Tampa with that of Bill Belichick coaching the Browns in the 1990s.
For some reason, Raheem The Dream thinks Belichick didn't have enough time to blossom in Cleveland and fans there wish he was given more time.
Now, forgetting the fact that the Browns were bailing to Baltimore and then canned Belichick, the Patriots head coach had five years in Cleveland that featured a losing record, a playoff win and a 5-11 final season. That wasn't enough time?
Just how much time does Raheem The Dream think he needs in Tampa?
Raheem The Dream gave his Belichick analogy during a recent radio interview on 1010 AM with J.P. Peterson, who hosts a new TV sports magazine show on CW44 every Sunday at 11:30 a.m.
On the radio, Peterson asked the head coach about the possibility of being replaced by Bill Cowher. Here's Raheem The Dream's unedited response (beware of major Raheem ramble):
"The best part about it is how I look at it is this. You know, the rumors, the whatever the case may be, the believing in whatever people want you to believe. Everybody should want this job. We're in Tampa. It's the best job in football. The other thing about it is this, is when we get here, I'm sure the Cleveland Browns right now wish they would have gave Bill Belichick a longer time. I'm not saying I'm Bill Belichick. But what I'm saying is you got to have time to implement your plan, which he got at New England. And now he's implemented it and now he's a genius. And I'm not saying I'm a genius. I'm not saying I'm any of those things. But let's go out and execute. Let's do what we got to do."
Joe suspects new Bucs uber media czar Jonathan Grella is now on Page 2 of a growing list counseling points for Raheem The Dream. Misguidedly comparing yourself to a Hall of Fame coach is never a good thing.
While Joe hopes Raheem The Dream has moved on from his ridiculious Dungy-era analogies, this won't do, either.
No matter how much time Raheem The Dream thinks he should have, or how patient Team Glazer appears, Joe suspects Raheem The Dream knows very well that he's in an improve-or-be-fired situation for the rest of his time in Tampa.