Could Preston Parker Make The Squad?
May 4th, 2010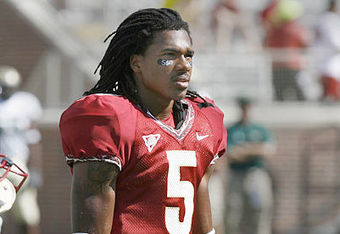 One of the smartest moves in Joe's eyes that Bucs general manager Mark Dominik made after the draft was to sign former Florida State/North Alabama wide receiver/running back/return specialist Preston Parker.
Joe had previously described him as a poor man's Dexter McCluster. Had Parker not done stupid stuff — he got tossed off Florida State's squad for, among other silly things, not putting the one-hitter down — perhaps Parker would have been spoken in the same conversations as McCluster.
Parker was a star on Florida State's emerging offense under Jimbo Fisher, and at the time he was really the only offensive weapon that Seminoles opponents were really concerned about.
Then Parker got tossed off the team by iconic coach Bobby Bowden and Parker was mired at North Alabama, hardly the same level of competition of, say, the Crimson Tide.
It seems the Bucs were impressed enough with Parker during rookie minicamp that he caught Raheem the Dream's eye, per the TBO.com Bucs report blog (hey Aaron Knox, Joe didn't give anyone credit because you didn't publish the name of whoever uploaded the story).
"He showed some good things, made a nice grab today, ran a couple of really good routes,'' Morris said of Parker. "He's been a professional since he's been in our building and he's one of those guys that you want to get a little more of an in-depth look at.''
Signing Parker was a very smart, very, very low risk and potentially high-reward move by Dominik. Right now, even though he just finished playing Division II football, Joe isn't so sure Parker doesn't offer as much as some receivers already on the roster.