Could Jeremy Trueblood Be Hard Of Hearing?
May 12th, 2010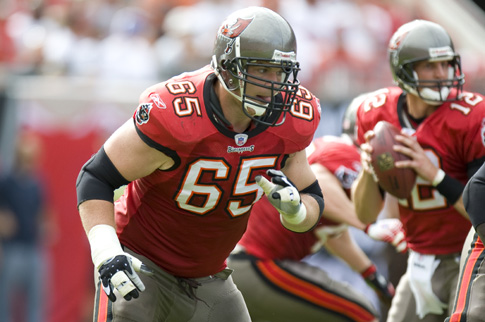 As Joe is wont to do in an effort to hypnotize himself that he's not stuck in a soulless cube at work, bogged down with mindless duties, Joe slapped on his earbuds and fired up Sirius NFL Radio.
Joe heard Ross Tucker, co-hosting  "The Opening Drive" with Peter King, talk about offensive linemen and false starts. Tucker, who logged seven years as an offensive lineman in the NFL, currently is an SI.com columnist and is also a graduate of no less a higher institute of learning than Princeton University.
He had the following to say about offensive linemen and false starts:
"If a lineman is getting called for a lot of false starts, that tells me either he can't hear, he doesn't have the passion or the desire to play, or he is just dumb."
Joe immediately thought of Bucs right tackle Jeremy Trueblood, who led the NFL last year in false starts.
False starts are a sore subject for Trueblood, as they ought to be. Joe knows a Bucs beat writer confronted Trueblood last year about why he was making so many false starts, and Trueblood copped an attitude with said reporter, saying in so many words, "Well, if you ever played the game, anyone who has played the position understands… "
What was Trueblood, who recently signed his tender offer from the Bucs, implying, that because he had more false starts than any other NFL lineman he knows the game better than any other right tackle, or that he doesn't know as much about the game than others in the NFL?
It's an interesting observation that Tucker had.
Let Joe get this out front right away: Trueblood is not dumb. Hardly. He graduated from one of the better universities in the northeast, Boston College. So let's get that premise out of the way right now. Trueblood is hardly dumb.
Nor does Joe think Trueblood lacks passion. Joe sees Trueblood get tangled up in a lot of scraps on the field. To be  blunt, Joe enjoys this. Joe likes his offensive linemen mean and angry.
So that leaves Trueblood's hearing to be an issue, if one is to believe Tucker's premise. Joe has no idea if Trueblood is hard of hearing or not, but it's an interesting theory.