"This Feels Right"
April 22nd, 2010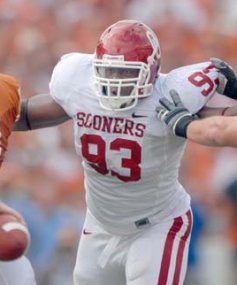 One of the happiest Bucs players is someone in the secondary because the Bucs got a defensive tackle third overall.
That sure seemed to be the case when Joey Johnston of the Tampa Tribune caught up with some Bucs players at the CITS for the draft party hosted by the Bucs.
Per Johnston, Bucs safety Tanard Jackson said of the pick of McCoy, "This feels right."
Notice since the Bucs defensive front line barely got to breathe on opposing quarterbacks, they had all sorts of time to pick apart the Bucs' secondary. Just having McCoy start should take some heat off of the Bucs' defensive backs.
But it wasn't just Jackson who seemed pleased. So too was linebacker Geno Hayes.
"A lot will be expected of him, but he's awfully talented," Bucs linebacker Geno Hayes said. "I definitely remember seeing Ndamukong Suh (of Nebraska, who went second overall to the Detroit Lions) just destroy Texas in the Big 12 Championship Game. I know people put him (McCoy) in the same class. I think we got a guy who's going to help us get closer to getting back to the playoffs."
The cliche that it all starts up front is not really a cliche. It's fact. When the defensive front creates disturbance, it all rolls downhill for an offense from there. If McCoy excels, it will help the Bucs defense a great deal in more ways than just the defensive line.